Andrew Angulo: The Can-Do Man!

Mar 01, 2015 10:38AM ● Published by Wendy Sipple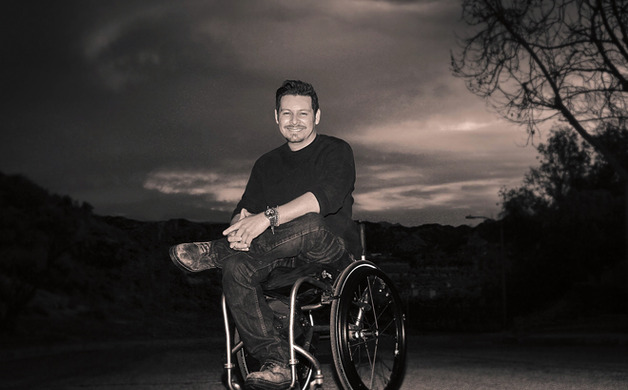 Gallery: Angelo Angulo [0 Images] Click any image to expand.
"I can do that." Who hasn't muttered those wishful words while watching someone show off artistic or athletic talent. Of course the truth is, very few can, and even fewer try.
Andrew Angulo isn't one who just talks the talk. After crashing his motorcycle in 2009, his life and the life of his family immediately changed. "When an accident happens, it effects everyone," says Andrew. "When I lost the use of my legs, my kids had to adjust to a dad who was physically different."
Before his injury, Andrew, 40, was an active father. He took Ethan, nine at the time, Jacob, seven, and Courtney, 13, to the park so much they got sick of it. After his injury, he says, they struggled to find activities to share. "The park was out of the immediate equation because of grass. Playing ball and riding skateboards or bikes, those were no longer the same."
It was a difficult transition. They often sat together watching YouTube videos that featured bloggers talking about funny things that happened to them while out shopping or driving, while re-creating the scenarios. Andrew recalls, "We'd all laugh so hard! Then one day I thought, I can do that."
And indeed he did. With no training in the cinema arts, Andrew bought a camera and began making a show he called "My Disabled Life." The kids became his crew and he learned by trial and error. Andrew shares the closeness the project created. "My kids were my saving grace. They kept me going. Working together we were able to share some of the obstacles I faced as a wheelchair user, as well as a lot of the humor."
Andrew and his kids produced videos that show him trying out a standing frame, bouncing on a trampoline, transferring into a pool, going to work, and attempting a variety of new sports and activities. The goal was to use humor to convey a sense of normalcy. In one scene, his son attempts to get a lethargic, depressed Andrew up and moving. When Andrew finally complies we see him transfer to his chair and then immediately run over his son. The videos were a cathartic process that not only helped others see disability in a positive light, they also helped Andrew adjust. 
An ability to face life with optimism has pulled Andrew through difficult times. An earlier bit of adversity came when he and his first wife got divorced. "My kids' mother and I split in 2004. After six years we kept jogging around the same issues and it finally led to a split. We agreed on joint custody over important decisions but the kids primarily lived with me as a single dad."
Andrew was working in supply chain management when the marriage ended. It was a tough process but he adapted to life and managed to make it all work. Andrew soon met his second wife, had a whirlwind marriage in Vegas, got on track to becoming a vice president of operations at his company and started down the road to happily-ever-after. 
It was a short ride. On an outing with friends, Andrew, an avid motorcycle enthusiast, took a turn too fast and hit a curb. Andrew recalls, "In the first instant of the accident, I was more upset that I dropped my bike . Then when I tried to roll over and couldn't, it hit me that something was really wrong." 
Andrew sustained two breaks of the T7 vertebrae, paralyzing him from waist down. His initial response was depression, guilt and sorrow. "It's devastating at first. Your whole life is changed. Your body is different, how you function is different, and when you start to adjust, the world still treats you differently."
The extra stress of the accident didn't help with the issues that had plagued his impulse marital union of three years. "We started our relationship on a shaky foundation and without really knowing who we were until we were living under the same roof. We had many challenges to overcome, such as the children, being a stepparent, family, religion and how we reacted with each other on topics. We also had a lot of great times too. But once the accident happened, it became a blame game. We both felt unsupported by each other and we knew too much had been said and done to be able to return to find our new 'normal.' She left three months after I came home from rehab."
Andrew knew he had to build a new life. He went to a support group to really understand the injury and how to transition back home. "I learned to do it all on my own. I had to adjust to the new body and way of life. I didn't have a choice. I had learn to be a single dad again. My kids needed me and wheelchair or not, I had to be there for them." 
Andrew's video series helped the family unit stay close, but the project has gone well past that. Andrew has taken the heart of "My Disabled Life" to Russia, New York and beyond. Jon Alpert, a successful New York-based documentary filmmaker, saw a few of Andrew's online videos. He liked the direction they were going so he reached out. "When I got the call I was elated. Jon told me he felt what I was doing was important. He told me if I put the time and effort into my work, I could create something powerful that would make people see disability differently."
Jon invited Andrew to be part of a U.S.-Russia LINK Media pioneer program. The idea was to create a unique program to help garner media attention toward a better a U.S.-Russia relationship, finding common ground on the topic of disabilities. The program—they called it the Media Enabled Musketeers—involved creating short documentaries about disabilities that would provide a deeper understanding of disability and help promote friendship between Russia and the United States.
Andrew was nervous about the invite but knew he could do it. He spent the next nine months filming and editing. His first cut was too broad; he needed to reshoot. But, before he could get to his second cut, Andrew was forced out of action, recovering from a painful surgery. The deadline was fast approaching and Andrew felt he might need to drop out. But Jon Alpert said no. "We'll wait for you, if you can get it done." 
Andrew did. He took his finished piece to Russia with the DCTV crew and the other Musketeers, then to New York for a screening at the HBO headquarters. "In both of our countries, we stood up side by side for advocacy. We shared films to portray the challenges we face. We laughed, ached and cried. We ate and drank merrily. We hugged, held hands and ultimately created genuine friendships."
Today, Andrew wants to continue to create films that make a difference. His experience with DCTV and Russia have empowered him to go further. "I want to focus on capturing video of daily life; what's new and what's happening. I want to develop fun and creative entertainment that forms a connection not only with the community of people with disabilities but with the able-bodied world as well. I want to help educate, inspire and entertain."
MY GEAR
I began with, and still use a Canon Vixia HD camcorder, with a Rhode shotgun mic. For an unobtrusive indoor, on the town situations, or fast activity, I use a Kodak PlaySport (a GoPro equivalent). And finally, with most scripted and planned shoots, I use a Canon 60D DSLR along with assorted gadgetry, wireless mics, film filters and lighting. I initially began editing with iMovie. I later jumped to Final Cut Pro. •
Visit disabledlifemedia.com for more information.
---
Article by Ellen Stohl © The Hub SoCal Magazine published by Style Media Group.
All photos courtesy of Andrew Angulo.

Article appears in the Premiere 2015 Issue of The Hub So Cal Magazine.
Features
Photographer
Andrew Angulo
The Hub SoCal