Handhelds Rule

Mar 01, 2015 12:14PM ● Published by Wendy Sipple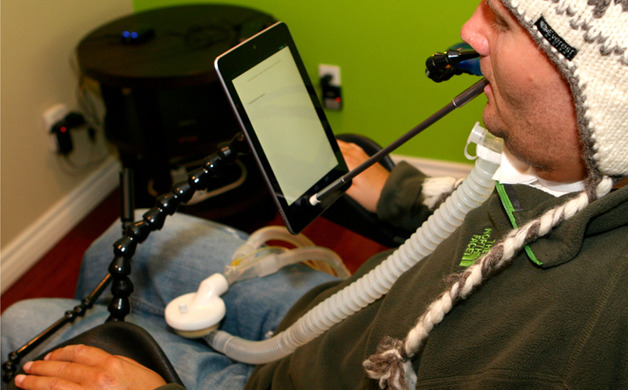 I use my smartphone every day, all day, and it has given me more independence than I had ever dreamed of when I was injured 18 years ago. From texting and email, to music and search to games and movies, you do everything on a smartphone now. 
I'm a C3 ventilator-dependent quadriplegic with no feeling or function below my neck. When I had my injury in 1997, voice recognition software recognized every other word, the Internet squealed at you when you connected through a landline and smartphones only existed in science fiction movies. Today, voice recognition can translate from one language to another in real time, most of us would trade one of our (functioning) arms for the broad utility of the Internet and a smartphone is as powerful as a supercomputer from two decades ago. Technological progress has been astounding, and has given all of us with mobility disabilities far greater independence.
I have a custom phone mount on my wheelchair made with Loc-Line which can hold either my phone or tablet. I use aluminum mouthsticks with a vinyl mouthpiece (to protect my teeth) made by ifaraday. Typing with a mouthstick can be tedious, but voice recognition on phones works very well and is constantly improving. Typing emails, commanding your phone to call a friend, and searching with Google can be done with nothing other than one's voice. For others with more limited movement, I just discovered a crowdfunding effort to build a phone controlled by eye movements.
I also use a Windows PC every day controlling the mouse with a Jouse2 and typing with Dragon NaturallySpeaking and an on-screen keyboard made by IMG. The Jouse works as fast as a mouse, Dragon works well for dictating most words, but the on-screen keyboard is necessary to fix typos and to type the words that Dragon doesn't recognize, such as foreign-language words and companies with snazzy, phonetic names. The on-screen keyboard also allows macros to be programmed so that by clicking one button, I can, for example, type my email address or password. Some people with high level mobility disabilities use eye tracking hardware to control a mouse; others use a head controlled mouse. Altogether, these assistive technologies allow me to live and work independently.
Along with advances in hardware, software and media companies have adapted quickly and provided many easy ways to satisfy consumer's tastes. Consumers want to watch video on their own time and on their own device, whether that's a TV, desktop, laptop, smartphone or tablet. The most well-known is probably Netflix, which can be watched on a smartphone, tablet or computer. 
I've watched TV on my phone/tablet through the excellent Time Warner Cable TV app. Most networks are available through the app, but you are limited to watching through your Time Warner Internet connection at home; only a handful of networks are available outside your home Internet connection. I've also streamed Time Warner TV through a web browser on my desktop computer and it worked almost flawlessly. The DirecTV app is similar, but more limited in the channels available for streaming. Both apps also work as a remote to control your TV and DVR. Comcast, Dish Network and other TV providers also have their own apps.
Chromecast (from Google) is a $35 thumb sized media streaming device that plugs into a TV. By using your phone you can "cast" the media on your phone (iPhone or Android) to your TV. I use Chromecast to watch Netflix, YouTube, HBO and others. With a decent broadband connection, it works flawlessly. Movies and TV can be rented and purchased through Google Play. Apple TV is a similar competitor that only works with Apple products and you can only purchase movies and TV shows through iTunes. Roku, Amazon, PlayStation and Xbox all have TV streaming capabilities as well.
TV is finally beginning to "unbundle," which means consumers will be able to choose which channels to purchase instead of being forced to purchase bundles of channels. Dish Network just announced Sling TV, an online only TV service for only $20 per month. Expect more change that allows consumers more choice.
Environmental control is another area where smartphones have made people more independent. I remember trying out environmental control units in the late 90s that cost several hundred dollars and did not work very well. The technology was proprietary and integrating an environmental control system into an existing house cost thousands of dollars. 
Today, with open standards like Bluetooth, Wi-Fi and readily available products, including a number of inexpensive phone apps, anyone can control their environment inexpensively and efficiently.
SmartThings, a company specializing in home automation, allows control doors and locks, lights and switches, thermostats and other things around your house. EvoAssist is an app that turns an iPhone into a universal home environmental controller that can control electronics, automatic doors, lights, ceiling fans and other things connected to the app. Control4, Nest, and numerous other companies make countless other devices to control your environment. Many of these products are fairly new and may have some kinks to work out, as all new technology does. But over time, these connected devices will work smoothly and afford greater independence to people with mobility disabilities.
2015 is an amazing time to be alive. Technological advances have brought enormous benefits to people living with mobility disabilities. Progress continues to accelerate. Many technology companies are in an arms race to build artificial intelligence and software that will automate our lives even further. Extrapolating from the past few decades of progress, I can't wait to see what's next! 
---
LINKS 
Loc-Line   |  modularhose.com
ifaraday stylus   |   ifaraday.com
Touch free smartphone   |  sesame-enable.com
Jouse   |   jouse.com/jouse3/home
Dragon speech recognition   |  nuance.com
On-screen keyboard   |   imgpresents.com
Chromecast   |   google.com/chrome/devices/chromecast
---
Article by Mark Willits © The Hub SoCal Magazine published by Style Media Group.
Photo by Sam Maddox.

Article appears in the Premiere 2015 Issue of The Hub So Cal Magazine.
Technology
Handhelds
Smartphones
Loc-Line
ifaraday
Touch free smartphone
Jouse
Dragon speech recognition
On-screen keyboard
Chromecast