Beyond the Velvet Rope: Nightwheeling in LA!

Mar 01, 2015 12:35PM ● Published by Wendy Sipple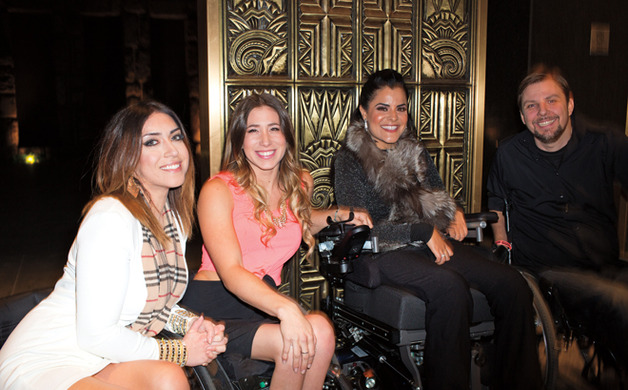 Katie, Chelsie, Vanessa and Toby on the night beat
Nightclubbing in SoCal. Being young and hot and severely able-bodied helps, but get this: so does arriving in a wheelchair. You will need to come to terms with hit and miss accessibility but the clubs will embrace you and do their best to amuse you. Be prepared for $14 cocktails. Dress up. Get down. You will be told you are an inspiration. You will get spilled on and tripped over. But as The Hub SoCal's clubbing crew will testify, you will have a crazy cool experience.  
Vanessa Osman

These days I'm not so big on the SoCal nightlife scene but I never have been one to say no. My days of dancing, drinking and dashing about the urban nightscape started 20 years ago, and half that time I partied in a power chair. The way I am treated and the reactions I experience have been similar whether I'm clubbing in Dubai or LA, but I have never been out with a group of six people in wheelchairs, which made this assignment very intriguing and exciting. 
We agreed to meet at The Rooftop at The Standard, a popular downtown hotel. We were fairly early, which meant no cover, no bottle service or VIP drama at the dreaded rope. But just as I experienced before injury, I was not asked for ID, just simply ushered to the elevator. This has been consistent in my experience both before and after injury. Ah, the ease of being a female...
Once upstairs, it was surprising how crowded the place was on a Thursday night. (Then again, LA's nightlife scene begins on Thursday and doesn't stop until Sunday night.) The bouncers were very accommodating, making sure that we had a path cleared to our table. A few of our group nonchalantly slid from their chairs to the couches and laid out comfortably sipping cocktails. One of the best things about the bar is that the sectioned lounge spaces have low furniture, easing the transfer. Another plus was an attentive wait staff—we didn't have to worry about going up to the bar and ordering drinks. 
Before long we left the fairly low-key vibe of The Standard, piled into our cars and headed across town to Hollywood to a trendy spot called Warwick. There was quite a bustling queue behind the velvet ropes but we had an advantage—one of our friends in the group had arranged for a table. We were quickly ushered in by bouncers who performed serious crowd control. 
Warwick is gorgeously decorated, large but crowded. The interior is a unique mix of wooden beams, high ceilings, opulent chandeliers and random Asian art. The bar is a classy design throwback to the early 20th century. The DJ spun popular hip-hop/club pop music and threw in some old school jams from Michael Jackson and James Brown. The night continued without a hitch. Energized waitresses in barely-there dresses frequently stopped by to replenish drinks. Hyped up fellow clubbers stared at our posse. Eventually, Chelsie and I stormed the dance floor, fending off drunk dancers trying to grab our hands to dance. Of course, there were people telling us how "amazing" we were.
When the dance space got overcrowded some toes were sacrificed, people tripped over rear casters and turned around ready to shout—suddenly stunned that it was a wheelchair that caused them to eat shit. My theory if you're going to dance and you're in a wheelchair: Dance big and dance wide...unapologetically!
Within an hour the club was at capacity; navigating both the dance floor and a way to the restrooms became precarious. It was a relief finding that the bathrooms were spacious and clean, offering a fully accessible stall and even an attendant.
Exiting the club required much more attention than getting in as serious  throngs of inebriated and unsteady girls and guys failed to notice our need to get around them.
Don't sit this scene out. Just roll with whatever the night brings. If you resign yourself to the fact that you're going to have a good time regardless, you will. And wheelchair or not, you (and maybe a little help from your friends) will make it work.
Chelsie Hill

I never went out in Hollywood as an able-bodied person. I've only experienced nightlife sitting in my wheelchair. Accessibility is never certain, so when my friends and I decide to go out, we usually call the club ahead of time so they can prep for us. One of my favorite clubs is Warwick, on Sunset Boulevard in Hollywood. It's is a beautiful place and a ton of fun. Every time I've been there they have accommodated my friends and me, no questions asked. Going out in a wheelchair can definitely be difficult. Drunk people are going to spill drinks on you or run into your chair. It's always a good idea to have some nondisabled friends along with you, just for some extra assistance. My advice for people in chairs planning to go out in Hollywood would be to bring friends, call ahead, and watch out that you don't run over any toes. 
Katie Sharify
Three-plus years ago, I went out with friends on Halloween. It was the last time I would walk in and out of a nightclub on two feet. Two days later, November 2, 2011, I was in a hospital bed with my back literally snapped in half. 
The story of my "final night out" isn't significant just because it was the last time I went clubbing as an able-bodied 23 year-old. What stands out most about that night is a weighty foreshadow—and the reason I have avoided the nightlife scene at all costs ever since. This backstory also happens to be the reason I agreed to finally face my demons, get back out there, and write about my experience—this time rolling in and out of a nightclub on four wheels. 
I moved to Los Angeles from the Bay Area six years ago; my only intention was to attend USC and graduate with perfect grades. Maybe I had watched one too many episodes of The Hills or maybe I was just making up for lost time, but once I got my first taste of a real night out in Hollywood, I was hooked. I guess you could say the rest is history. I spent the next two and a half years making all the right friends in all the right places and went to every hot nightclub opening. Clubbing became almost a full-time job. Starving all day to fit into our outfits, spending hours on hair and makeup, figuring out which clubs to hit and whose expensive alcohol to drink...really tough stuff. And I won't deny it. I loved it all, every second of it, mincing past the long lines and the velvet rope straight into the club where my girlfriends and I always found plenty of good looking men offering us a spot at their VIP table. It was a charmed life. 
I don't remember much leading up to my accident but the memory of my final night out remains lucid. It was a typical night. I took my sweet time getting ready, arrived late to meet my friends at the club, headed straight to the
bar. After what felt like centuries of being ignored by the evil bartender, I finally got what I came for: two double shots of tequila. I overpaid and overtipped, but, hey, the night could only get better, right? I turned around to make my way back to my friends, carefully balancing my overpriced shots and walking on six inch heels through a sea of drunkenness. Then boom. There it was. Something hard. What kind of asshole would leave a piece of metal in the middle of the club? I looked down. It didn't register. It was a young man in a wheelchair. I remember feeling shocked and angry. Who did he think he was? This wasn't a wheelchair club! Why was he sitting there in everybody's way? He had almost made me trip and fall. Not only that but I almost spilled my precious drinks! Didn't he have other wheelchair friends to hang out with at a wheelchair club? Who even let this guy in? I mean, just look at him! 
I didn't say anything. Thankfully. I just gave the poor man my nastiest death glares. You could probably hear hissing and see flames coming out of my ears. I was very unkind.
This is a story I have only shared with close friends. Just writing it down now makes me feel incredibly ashamed. 
When I laid in the middle of Interstate 5 with my back broken two days later, all I could think of was the man in the wheelchair. I knew instantaneously that I was paralyzed. Memories of my brief exchange came rushing back. I don't actually remember much from the crash itself. All I remember is the horror and thinking, "what goes around comes around, bitch." 
I spent the last three years avoiding LA nightlife. At first I simply wasn't "ready." Then it was my bladder. Not knowing how to get in and out of my friends' cars. I was too old. I was tired. I didn't have time. I was on medication. I quit drinking. Excuse after excuse. I even missed my younger sister's 21st birthday because I just couldn't bear to put myself out there again. Sure, I went to a bar here and there. But an actual nightclub? A hotspot? In Hollywood of all places? No way. What if there were steps (which there usually are) and I had to be carried? It would cause a scene. Everyone would stare. It would be humiliating. What if I simply was rejected at the door? I had way too much pride to test out that theory. What if I ran into my former party friends? I hadn't always been the nicest person. Would they think I deserved what I got for being such a bitch? And then there was that Halloween guy in the chair. What if people felt the same way about me? What if—just like him—I was unwelcome?
When asked if I would contribute to a "club piece," where I would go out to an LA hotspot with a group of other people in wheelchairs, my immediate response was, "Yes!" I thought it was brilliant. It would not only give me a chance to face my demons but also gain insight on an activity which had for so long terrified me. While I had my reservations about rolling around with other wheelchair users and surely causing a scene, at least I knew that I would be sharing the experience with people who truly understood me. 
Our party met at The Standard Hotel in Downtown LA. Its rooftop bar/lounge offers a lovely view of the city skyline. Vanessa and I took a large elevator up to the roof. Friendly staff guided us in the right direction. Aside from a glance here and there, other patrons didn't seem too shocked to see six wheelchairs crammed in one spot. That's one of the nice things about going out downtown; the crowd is so incredibly diverse, our presence was hardly noticed. I would definitely go back to this establishment. 
Next we headed to Warwick in Hollywood. We had to hatch a plan so we could actually enter the club without having to wait in line and pay a cover. This can be done in two ways:  Find a promoter or splash down an absurd amount of money on bottle service. We went with the first option. Our promoter was able to guide us in, no wait, no cover, and we had our own table. I was pleasantly surprised by nice doormen, helpful security staff and an attentive waitress. As someone who has both worked in the club industry and once frequented every nightclub in the city, I know that receiving this kind of treatment is rare unless you are a regular big spender. Warwick was wonderful in making us feel both welcome and comfortable. 
I couldn't muster enough confidence to join Chelsie and Vanessa on the dance floor, but I admired them for letting loose and really enjoying themselves. 
People get loaded and tell us how courageous and inspiring we are—which happens time and again—but I'll take the silly comments as long as everyone is pleasant, and I don't run into anyone as mean as that version of myself that Halloween night. 
Toby Forrest
A steady pulse of heavily muffled bass with a long line of scantily clad models and overly polished douchebags—that's what most of us expect to find outside of a Hollywood club. The entrance is possibly the most important part, and it is also the place where we find out just how special we are. Traffic and parking may have beaten us down, but the promise of what lies beyond the door gives us hope that soon we will be drunk, dancing and worry free. However, there is still the dreaded line, the cold wait and the possibility that we are not on the list. I have had this experience many times but I have one advantage, my wheelchair...and the longer the line, the more disabled I become. 
The first way to beat a line is to surround yourself with beautiful women but if you don't have that, a wheelchair helps. Most often this happens because my chair creates confusion amongst the bouncers and management. Rather than make a scene or get too distracted by me, they get me out of the way as quickly as possibly. In the past, this has led to some awesome benefits and experiences, but there have been a few instances where I was led to the back door through a dark, wet alley then past a dirty kitchen and stuck in the far corner of the club. I think this is often called the presidential entrance.
I have lived in Los Angeles for the past decade and have experienced quite a few clubs during that time. Most clubs here are fairly accessible and some promoters even like the diversity I bring. However, there are the occasional places that totally suck, whether it's through their fault or mine. 
Planning to party by researching pictures online is helpful, but contacting the venue and talking to management about access might result in some unexpected VIP treatment. Time is your best weapon too; showing up early gives the doorman a chance to put focus on you. Get there too late and you will be ignored as you compete with the long legs and big tips. Also, getting in the club early gives you the best real estate. It helps to ask the staff or management where the best spot for you to be "out of their way" is. This will make them empathetic to you and once again may result in some VIP seating. Being closer to bathrooms and exits is always a good idea, plus it gets you eye contact with everyone who is coming and going.
Once you're settled inside, the best thing to remember is that everywhere is your dance floor. Yes, people notice your chair, and, yes, many of them are inspired that you are out loving life. In fact, the drunker they are, the more inspiring you become. Dancing is like a subliminal message that these people should buy you a drink for being so awesome. If you can get out on the dance floor, make sure you are prepared for the drunk folks who want to drive you around. If you encounter this type, just lock your wheels and after a couple attempts to move you they will give up. You may also encounter the occasional lap dancer who wants to sit or grind on you. Unfortunately, there's not much defense against this—the best bet is to retreat, if possible, or just hang on and enjoy the ride.
Xander Mozejewski

I've been all over LA's night scene, and, no doubt, accessibility is often an issue. Fortunately, I'm always with friends who can carry me up stairs. A place in Hollywood I like a lot is Good Times at Davey Wayne's. It's fun, but crowded, small and up some stairs. To be honest, a crowded bar is a horrible place for a wheelchair, but this place has great drinks and is always filled with dope people. Every night, performers swing dance on roller skates. 
I'd say Nightswim at the Roosevelt is my favorite; open every Tuesday night in the summer. I go every week because it has the best energy, and I can wear a tank top and get away with it. If you didn't know, the LA club scene is pretty much dress coded, and I hate wearing shirts. For this article, a group of six of us in wheelchairs met at The Standard, downtown on the rooftop of a hotel. Fun, kinda mellow, but I loved the location and view. I would definitely go back—it's the perfect venue for a great night. 
My wheelchair has not been a detriment to participating in night life. I roll around these places, packed full of people, as fast as I can, smiling big, looking pretty. Everybody seems to love me. I never wait in lines, people offer to buy me drinks, they stop me to say, "You're such an inspiration! Rock on!" I love the attention. I don't even care about drinking, I just like talking to people, showing them my Instagram, and telling new stories of how I ended up in a wheelchair. At the end of night, LA is LA and anywhere you go will be a blast if you're with the right crew, and you meet the right people.
---
THREE MORE LA CLUBS
The Edison

Located down a sketchy downtown Los Angeles alley, very popular, mostly accessible. Industrial chic flapper-girl vibe. Live burlesque shows some nights. 101 West 2nd Street, Los Angeles
Dirty Laundry

Leading the speakeasy trend in Hollywood. Password hint: any sexual expletive will do. And please don't call 'em bartenders. The mixology staff have reinvented some classics: frozen bacon Manhattan anyone? 1725 North Hudson Avenue, Los Angeles
1 OAK 

New York by way of Vegas style fun, site of Suge Knight shooting last year. Ultra luxe. Bring money. Maybe you will run over some famous toes. 9039 West Sunset Boulevard, West Hollywood 
NOT JUST LA: SAN DIEGO
Altitude Sky Lounge
22 stories above Petco Park in the downtown Gaslamp District. Lots of VIP hooks if you bite. In the Marriott, 660 K Street, San Diego
Fluxx

Also Gaslamp, big sound and VIP theatrics. Lots of dance zones. Recent celebrity sightings: Snoop Dogg and Ashton Kutcher. 500 4th Avenue, San Diego 
Onyx
More Gaslamp, might as well make it a crawl. Popular place, meaning wear waterproof shoes, you will get spilled on. 852 5th Avenue, San Diego
NOT JUST LA: SANTA BARBARA
Savoy

State Street bar crawl offers a club or two. Meaning wait behind the rope or a pay to play with VIP service. Made for dancing and drinking. Burlesque and aerial shows. Dress code beachy-loose. 409 State Street, Santa Barbara
---
Article by The Hub SoCal Club Team © The Hub SoCal Magazine published by Style Media Group.
Photography by Xander Mozejewski.

Article appears in the Premiere 2015 Issue of The Hub So Cal Magazine.
Features
,
Today
Nightwheeling
Clubbing in LA
Warwick
The Standard
The Roosevelt
Nightswim
Good Times at Davey Wayne's
The Edison
Dirty Laundry
1 Oak
Attitude Sky Lounge
Fluxx
Onyx
Savoy