The Evolution of Post-Rehab: Accessible Exercise

Mar 01, 2015 12:56PM ● Published by Wendy Sipple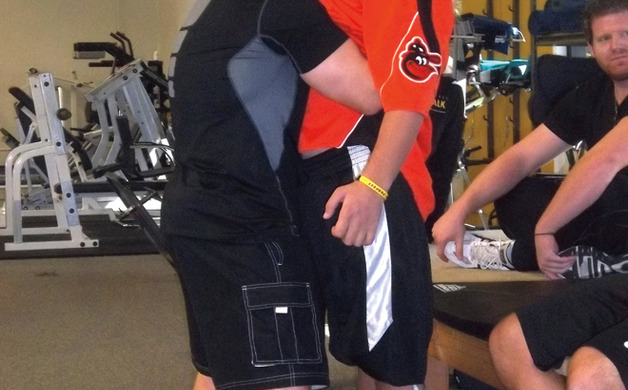 Exercise is the gateway to health and well-being. This is true for everybody, but for people with mobility-limiting disabilities, it is even more essential to work the heart, stretch the joints and move the body. Recovery is possible for some; vitality and quality of life are assured for all. Here are a number of fitness centers that cater to the wheelchair community. 

Challenge Center, La Mesa

The post-rehab fitness and recovery movement was invented by Bill Bodry, who opened the Challenge Center in La Mesa, near San Diego, in 1988. This was the first community-based, disability-friendly gym—the first non-institutional facility promoting accessible exercise. Bodry was spinal cord injured, T5, in 1973. After a few years, he started to feel the aches of aging; his research kept coming up across this maxim: "If there is a cure-all beneficial to most every condition that a person can suffer, exercise is it." He wasn't sure what he ought to do to get fit, and, of course, he could not find a facility offering the wheelchair-easy package he needed. So Bodry pulled a non-profit board together, got local government to subsidize some rent, hired a physical therapist and opened Challenge Center. 
Bodry, now retired, was a relentless scrounger for funding to keep Challenge Center afloat; he stayed motivated by witnessing "little miracles" on a regular basis. Bodry says he and his staff never made bold statements to clients about recovery. "We never guaranteed any particular result. But we did guarantee that whatever is possible will be possible here."
Bodry has long been openly annoyed by the lack of insurance reimbursement for obvious health and wellness benefits at Challenge Center. Tiffany Piquilloud, a physical therapist and executive director of Challenge Center, says staff is preparing a study to show that the program works and saves the system a ton of money. "The extra effort to promote independence and wellness in this population isn't a cost; its an investment with both a financial and social ROI," says Piquilloud.
Another topic that always bugged Bodry was the rapid success of the upstart gym a few miles north in Carlsbad, Project Walk. Sure, there are people getting some results, he'd say, but at what risk? Challenge Center was built on the idea that professional therapists are required to assess and prescribe the right exercise. Project Walk employed only exercise trainers, no licensed therapists. "For a layman to define an exercise program for a person with a neurological disability is a recipe for disaster. They say get out there and exercise; that's fine for the general population, it's 'just do it.' Fine. But for people with disabilities, it's just do what? In what way? For how long? You have to be concerned, will I improve or will I aggravate my condition?" 
Challenge Center (challengecenter.org) charges $20/month for unlimited access. Initial PT evaluation is $125. PT-led sessions are $90/hr. Trainers are $16-46/hr. Special gear: FES ergometry bikes; NuStep.
Project Walk, Carlsbad
Over the years plenty has been said, bad and good, about Project Walk. Somewhere between miraculous recovery and deceitful promise lies this: The marketplace has validated PW's sports trainer concept of rehab-as-a-lifestyle therapy. The mother business, based in Carlsbad, figured out early on how to monetize hope: PW clients typically spent $3,000 or more a month, sometimes for years; the business model now includes franchises, the first in SoCal in Claremont. Meanwhile, former PW trainers keep popping up similar SCI gyms all over, including Strides in San Juan Capistrano, and SCI-FIT in Pleasanton and Sacramento. 
Project Walk got started because of Mike Thomas. He was paralyzed, C7, in a car accident in Cuba in 1998, shipped to Miami for rehab, then came home to California hoping for some recovery at the VA hospital in San Diego. He was discharged and pronounced "rehabbed." Not acceptable, said Thomas. "There's got to be something better." 
Thomas met Ted Dardzinski, a former triathlete who became an athletic trainer, in La Jolla. Dardzinski had not ever worked with a paralyzed person, but he got Thomas out of his wheelchair, on the floor, and they tried whatever they could think of to reset the connections between brain and body. Dardzinski worked with Thomas not to compensate for lost function, but, by using spasms as activity, and by using repetitive patterning of movements and weight-borne exercises, they hoped this would reawaken neural pathways, and thus, recovery. Recalibrate expectations, work on the body parts that don't work. That's the gist, anyway, behind what is now the Dardzinski Method. 
It worked for Thomas. He regained the ability to walk, pretty much the holy grail in this business. Dardzinski got a few more clients, put up a shingle—alongside his wife Tammy and fellow trainer Eric Harness—and called it Project Walk. 
Thomas, in his 70s now, is still a regular at PW. He doesn't have to say a word; newly injured people with paralysis see him and get the message: "Look what I got back, and maybe you can too."
I visited PW a few weeks ago, chatting with Harness about the Method (about 1,800 total clients from dozens of countries, still getting some recovery), the business (Carlsbad location downsizing from 24,000 square feet of space to 10,000, due to reduced client volume due to franchising), and, since he was listed as Research Director, the data and current projects (he is the first author on research often-cited by PW that claims 71 percent of clients improve function below the level of injury; he's collaborating with Cal State San Marcos, hoping to show that exercise improves bone density). Harness, known as "Snowman," has been a regular contributor to the online SCI community CareCure.  A tough crowd; over the years, they skewered Project Walk for being avaricious, or for pandering to false hope. Snowman would have fallen on his sword for the Method. Well, three days after my visit, I heard from Harness; he'd been downsized too. 
Project Walk (projectwalk.com) charges $110/hr. for one-on-one training. Home-based program available. Gear: body-weight supported treadmill; weight stations; vibration platforms, FES bikes. 
Project Walk, Claremont
Hal Hargrave, 17 and just out of high school, was spinal cord injured, C5/6, in 2007. Just days after leaving Casa Colina Rehab, he became a regular at the Carlsbad PW, twice a week for six years. Motor function recovery was modest but Hargrave got a lot of mental, emotional and social benefits from being a Project Walker. He's healthy, much more confident and self sufficient, and that's a direct payoff, he says. "Exercise, if you stick to it, is medicine," says Hargrave.
Shortly after his injury, Hargrave and his family started the Be Perfect Foundation, a charity to help SCI folks with things they need, including costs of therapy, equipment and transportation. Be Perfect has raised $2.5 million along the way. 
Project Walk Claremont, a collaboration with Be Perfect, began in a small space —actually, a racquetball court—donated by the Claremont Club, a fitness/tennis club in town. Hargrave brought in a trainer to work with a group of his spinal cord injured friends. The club later offered him a much larger space, rent-free, to expand. The franchise idea had just been hatched by Project Walk and everything lined up. Hargrave and his parents pooled $300,000 to fund PW Claremont. It's being run by the Claremont Club and is now serving more than 50 clients; his family, says Hargrave, "doesn't make a dime" from PW. Two cool features: Claremont is a lot easier to get to for LA clients, plus it's cheaper ($85 an hour versus $110 in Carlsbad). Second, families and caregivers of PW clients get free use of the 19-acre club's amenities, including yoga classes, pool and spa, and tennis. 

PW Claremont (claremontclub.com—click on Project Walk) charges $85/hr. for one-on-one training. 
CORE, Northridge
Aaron Baker was injured in 1999 at age 20, C4/5/6, crashing in a motorcycle race. He says his first doctors gave him little chance of feeding himself again. After six months inpatient rehab at Northridge Hospital, and six more as an outpatient, "My insurance company deemed me pretty much rehabilitated. I was still in a power wheelchair but my body was just starting to respond; sensation was blotchy but there were flickers of movement. Mentally, I was a wreck. I'm an athlete. I like to train. I was motivated. And now, all of a sudden, I'm not able to work out in a rehab facility or around people who could actually help me?"
Baker tried a few local gyms; the equipment was inflexible for his needs. He even tried Project Walk for a short time. Then in 2000, he got connected to kinesiologist Taylor K. Isaacs. "I said to him, 'With my motivation and your education, we're going to make in happen.' I saw his enthusiasm, and it matched mine." They worked at it and Baker's body responded. He regained a great deal of sensory function, and eventually could walk using just a cane for support. Baker still calls himself a recovering quadriplegic; at this point he trains mostly for maintenance. "If I stop working out even for a short while, my body feels like lead."
Baker, his mother Laquita Conway, and Isaacs opened The Center for Restorative Exercise (CORE) in 2011, in a Northridge shopping center. It's an attractive space, busy, upbeat, with a warm, community vibe and regular social events and lectures.  
Baker says CORE is careful about what they promise. Of course folks may set their own expectations after seeing the founder get up and walk away from his wheelchair, but that's not the point. "We do not promise recovery. We do say that if you don't pursue a healthy lifestyle of activity and movement, your body will succumb to the secondary complications of paralysis, and you will not improve." 
Isaacs' mantra is that fitness is a lifestyle choice, something that has to be maintained across the lifespan. Optimal training and nutrition will result in optimal performance and can help to stave off degeneration and disease. The core message at CORE: Results will follow if you become a consistent, dedicated, long term exerciser. For clients with spinal cord injuries, Isaacs encourages an integrated approach, working with diet, conditioning, flexibility, cardio fitness, balance and posture, plus motivation.
CORE (centerofrestorativeexercise.com) offers a two-hour evaluation, $275. Full access to gym is $59/month. Work with a personal trainer $75-$125. Gear: Total Access, NuStep, Easy Glide. 
Orange County Goodwill Fitness Center, Santa Ana
The OC Goodwill Fitness center, now in its seventh year, occupies a modern, 12,000 square foot space in an office park not far from the 55 Freeway in Santa Ana. This is the biggest, best equipped public disability-centric gym in the Southland. The center features a huge range of state of the art, fully-accessible exercise gear. Dues are low—$30 a month, with scholarships for those who can't swing that—to encourage anyone to join. 
The center has about 300 members but is not fully utilized. But Goodwill doesn't worry about volume, or rent, thanks to an initial $7 million raised in part by Rogers Severson, an OC real estate developer who in 1986 was thrown from a mule resulting in a spinal cord injury. Elizabeth Toumajian, the center's manager, says that the Goodwill Center was Severson's idea, his dream. Severson was also quite generous over the years to more than a thousand members of the California wheelchair community; though he died in 2012, the SCI Special Fund (scispecialfund.org)—a non-profit he founded—continues to offer funding for school, therapy, equipment and more. 
Toumajian has a master's degree in kinesiology and extensive experience developing therapeutic exercise programs for people with disabilities. "We have the ability to create a program that fits the needs of any ability level. Unlike Project Walk or CORE," says Toumajian, "Goodwill is a workout gym, more like a Bally Total Fitness or LA Fitness. Most clients come in, work out on their own, and then hang out. It's a very active, multigenerational, multi-ethnic social scene."   
OC Goodwill Fitness Center (ocgoodwill-fitnesscenter.org) charges $30/month for full gym access; financial assistance available. Individual PT sessions are $75/hr. Gear: many state-of-the-art accessible weight and aerobic machines.
Strides SCI Functional Fitness, San Juan Capistrano
Ex-Project Walk trainers Jason Wanstreet and Josh Salic started Strides in June, 2014. Wanstreet has a masters in kinesiology; Salic has a sports medicine degree. There are surely some distinguishing features to the Strides' method but the basics derive from the same out-of-the-wheelchair sports training playbook: They work on functional movement, strength, cardio training, load bearing, stretching, etc., along with emotional, psychological and nutritional coaching. The shop features a body-weight supported treadmill, has plans to add an FES ergometer bike, and says a Lokomat is on the way—that's the robotic system to ambulating on a treadmill. 
Strides (stridessci.com) charges $100/hr. for individual training with free one-hour evaluation. 
NextStep Fitness, Lawndale

Janne Kouri, 31 at the time, was playing volleyball Manhattan Beach, 2006. Overheated, he dove into the surf. He didn't see the sandbar. Kouri was paralyzed at C5/6, got sent to rehab, but it wasn't enough. He wanted to at least near the word recovery. "I wanted to go to a proactive, progressive place, not one where you just learn how to live your life in a wheelchair." 
Kouri scouted around, saw nothing in California, got wind of Frazier Rehab Institute in Louisville, KY, the lead center in the NeuroRecovery Network (NRN), an activity-based research program set up by the Reeve Foundation. "It was the only place that gave us hope," says Kouri. 
He stayed in Kentucky for a year, working hard on treadmill (locomotor) training. "After about four months of five-days-a-week training, I was able to wiggle my big toe," Kouri said. "But the more meaningful results were better muscle tone, cardiovascular health and improved blood pressure." He says there's a cool mental part of the training: "It just felt great to stand up and 'walk' again." Locomotor training is not widely available, but it has been validated in the medical literature; while some incompletely injured people get significant recovery, all participants gain health and fitness, a reduction in secondary conditions, and, thus, improved quality of life.
Alas, back in California, Kouri found no locomotor training sites—especially frustrating since the locomotor program in Louisville was researched and developed at UCLA. "I wanted to live here, and I wanted to get better. So my wife and I decided to build our own center." In 2008, with encouragement from the NRN, and with the help of family and friends, Kouri opened NextStep Fitness, based in Lawndale, operating as a non-profit. It's based on a fitness club model, not on medical rehab. "It is like going to the gym like anyone else does," says Kouri. 
NextStep (nextstepfitness.org) charges $75/month for membership and $175 for an initial evaluation. Locomotor training is $175/session. FES, $50/session. Personal trainer, $75/hr. Lots of special gear including Therastride locomotor treadmill, FES bike, NuStep, standing frames, Versaclimber, Vitaglide. 
VIP NeuroRehabilitation Center, San Diego
VIP was founded as the Medical Rehabilitation & Kinematics Lab in San Diego by Bradley Marcus, an osteopath specializing in physical medicine and rehabilitation. VIP, the non-profit evolution of the lab, is managed by David Charbonnet, an unpaid volunteer. He is a former Navy SEAL, spinal cord injured, L1, in a parachute accident in 2011. He wasn't getting the intensity of rehab he wanted from the VA. He checked out Project Walk but then came across Dr. Marcus, who happened to have a Lokomat machine, a quarter-million dollar robotic device that facilitates patterned walking suspended over a treadmill—locomotor training but without the need for three or four therapists. VIP also features FES ergometry, Giger tables (moves all four extremities at once) and even a climbing wall. Says VIP, the focus is on those who have difficulty moving secondary to stroke, brain injury, cerebral palsy, spinal cord injury, etc. 
Charbonnet's SEAL background has driven him to regain far more function than he was told he would. He and his staff, mostly former Project Walk employees, try to drill some of his fearless perseverance into the clientele. 
Rates at VIP (vipneurorehab.com) are $115 for 90 minutes. Features the only SoCal Lokomat in a public gym.
---
Article by Sam Maddox © The Hub SoCal Magazine published by Style Media Group.
Photo of Bill Bodry by Sam Maddox; Project Walk photo courtesy of Hal Hargrave.

Article appears in the Premiere 2015 Issue of The Hub So Cal Magazine.
Health
,
Today
Challenge Center
Project Walk-Carlsbad
Project Walk-Claremont
CORE-Northridge
Orange County Goodwill Fitness Center-Santa Ana
Strides SCI Functional Fitness-San Juan Capistrano
NextStep Fitness-Lawndale
VIP NeuroRehabilitation Center-San Diego