Carless LA!

Mar 01, 2015 01:20PM ● Published by Wendy Sipple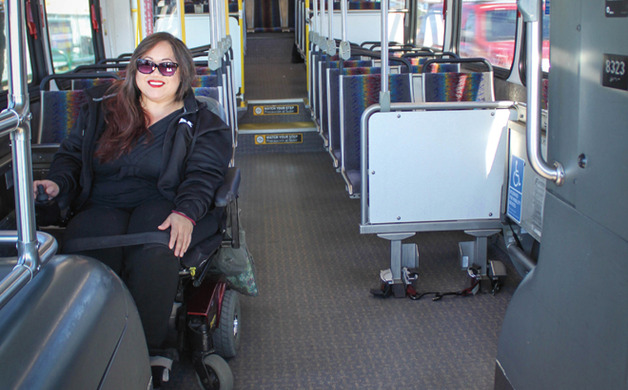 I was introduced to public transportation by an old friend possessed by an adventurous spirit that rivaled mine, equally eager to discover cities by way of their nooks and crannies. Popular locations and hidden gems in Los Angeles are better experienced first-hand, and, of course, our fair weather nurtures a wide range of activities to explore, from pop-up restaurants, live outdoor concerts, never ending farmers' markets, art walks, and a plethora of entertainment options taking place non-stop from the top of the San Fernando Valley to the karaoke bars in Koreatown. 
My travels via public transportation began years before my reliance on a wheelchair, but indeed this sets up new challenges. Would my old hangouts be accessible? Since I didn't drive, could I get around our lovely City of Angels as I had before? Why not? So, I gave it a go.
There's loads to do here, and a growing savvy about the importance of public transit. More businesses are populating retail spaces surrounding Metro stops, thus reducing the amount of trekking necessary to reach one's destination. The folks at Thrillist were thoughtful enough to publish a Los Angeles Metro Rail Bar Map that breaks down the best bar within a 10-minute walk of every Metro stop. LA is more wheelchair friendly than ever, too. According to discoverlosangeles.com, "Los Angeles is one of the best cities in the country to visit for those with disabilities…" The site offers "Metro Trip Planner" links on the overview pages for featured locations.
City officials note that public transportation is gaining in popularity; though it is slow to evolve here in comparison to other landmark cities, it is on the rise in serving and meeting public needs by offering longer hours of operation with more options and modes of transportation. The Los Angeles County MTA boasts more than 2,400 buses covering 200 routes; the Metro Rail has six lines that serve 80 stations across the LA basin area. There's no shortage of ways to get around, especially when traveling around the downtown area.
Technology has evolved to almost eliminate uncertainty about riding the bus or subway. Mobile apps and mobile-friendly websites also take the guesswork out of bus arrival. I love the nextbus.com site! Indicate your location or bus or train stop and where you're headed, and voila, the exact time of arrival of your ride pops up. The NextBus website is comprehensive as well as mobile-friendly with a clean layout. Bookmark the site and create a shortcut to your smart phone and all Los Angeles Metro buses local to you (GPS must be turned on). It is run by Cubic Transportation Systems, Inc., a self-proclaimed "…leading integrator of payment and information solutions and related services for intelligent travel applications," with systems running internationally.
Unsure what bus or train goes where? There's an app for that! Oh Google Maps, how I love thee, let me count at least two ways. The navigation feature on Google Maps for trip planning offers a "bus" option with bus stop ID numbers labeled on the time-stamped step-by-step trip information, while clicking on "Street View" of the surrounding areas allows you to inspect the sidewalks you'll be wheeling over while offering a bird's eye view of surrounding neighborhoods. Smart phone friendly, for sure.
Sometimes buses and trains aren't an option. If you're looking for affordable curb-to-curb service, the Department of Transportation offers a government transportation program, Access Paratransit, a shared ride service, serving Los Angeles County, created to comply with ADA transportation guidelines. It's safe, more direct and is cost-effective: $2.75 for trips 19 miles and under, and $3.50 for trips greater than 20 miles. Visit accessla.org for details on eligibility, riding guidelines, service areas and operating hours.
Rideshares such as Uber and Lyft are territory we will explore in the future. In my experience, taxi cabs are not very reliable when it comes to wheelchair accessibility, but companies are beginning to offer wheelchair accessible vans. Just how easy is it to find a wheelchair accessible taxi? A random Internet search provided information for the L.A. Checker Cab Company. They offer specialized vans equipped for wheelchairs and state that their drivers are trained to properly handle mobility devices during transfer, and while entering and exiting the van. I cannot stress enough the importance of knowing how to secure your own chair so as to reduce the risk of damage. You can make a reservation online or over the phone. I was immediately connected with a live person and was informed that a van could be available within the hour, not bad for a Friday night, right?
So, the ABCs of getting around Los Angeles as a wheelchair user can be as simple as: (A)ccess Paratransit, (B)us/Metro and (C)abs.
Los Angeles is a huge county, but getting around our urban jungle isn't impossible. Technology is on your side and the wonders of the city lay in wait, ready to be explored.
---
LINKS 
Metrolink  |  metrolinktrains.com
Access Paratransit  |  accessla.org/home
Los Angeles Metro Trip Planner  |  socaltransport.org/tm_pub_start.php 
Los Angeles Metro Home Page  |  metro.net
Real-Time Passenger Information  |  nextbus.com 
Discover Los Angeles  |  discoverlosangeles.com
---
Article by Olivia Almalel © The Hub SoCal Magazine published by Style Media Group.
Photo of Olivia Almalel by Andrew Angulo.

Article appears in the Premiere 2015 Issue of The Hub So Cal Magazine.
Metrolink
Access Paratransit
Los Angeles Metro Trip Planner
Los Angeles Metro
Real-Time Passenger Information
Discover Los Angeles