Diestco MFG Corp.

Mar 01, 2015 01:39PM ● Published by Wendy Sipple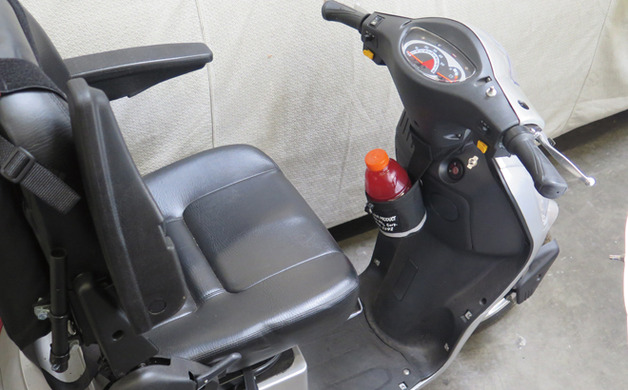 Diestco MFG Corp.
Business Owner: Daniel G. Diestel
370 Ryan Street, Suite 40, Chico, CA, 95927
800-795-2392  |  diestco.com
---
Describe your business. Did you find it, or did it find you?
Diestco MFG Corp. is a nationally leading mobility accessory company providing quality, U.S. manufactured answers to problems and obstacles individuals face daily while using their wheelchairs, scooters and walkers—from unbreakable cup holders, armrests and seatback bags, to canopies and covers for transporting, plus threshold ramps, trays, folding safety flags, lights and much more. The business found me. One day while managing radio stations in Chico, CA, I noticed a man in a wheelchair waiting at a light during a hot August day. He looked spent, and I had a thought—isn't there anything on the market to provide individuals using mobility devices some sort of protection or relief from the intense sun and/or rain? After researching, I discovered the answer was "no," so I applied for a patent, gave my employer notice and started Diestco MFG Corp. with no manufacturing experience other than shop classes.
How are you involved with both the community and your customer?
I'm very involved with both our immediate community as well as our customers throughout the U.S. Many organizations have benefited from Diestco MFG programs of support—from free listings on our website to donated products for their fund-raising efforts. I take pride in going the extra mile for individuals who are unable to locate a specific solution to their individual need.
Why is your staff the best in the business?
My staff is the best in the business because they care and understand that helping people is far greater than making money. They are trained to listen, assess the situation and develop a logical plan of attack; this might be as simple as helping to locate a dealer, who can work on their scooter or wheelchair (we do not offer repair services at our facility) or it might be taking the time to walk an individual through the mounting of one of our products. They have been versed in the area of complete assistance.
Where do you go when the going gets tough?
I'm very fortunate to live in northern California where I'm provided with great open spaces to clear my head. I go on walks and take in all that nature has to offer—the sounds, the smells and the sights…especially at sunset. 
If you could meet someone living or dead, who would it be and why?
I would love to sit down with Jimi Hendrix; or sit in on a jam with him. We have a full studio in our shop where we play music every Friday night with many very talented musicians; Jimi Hendrix, John Lennon and Neil Young have always been at the top of this playlist. Neil Young's son, Ben, who uses a wheelchair, has a bunch of our products.
And finally, customer service is…?

Customer service is listening, first and foremost. It's very difficult to solve a problem without listening to it being explained; once understood you can begin to solve the situation or get advice from another person, but you must be honest—not only to the person you are assisting, but with yourself. Believe in yourself honestly and you will be good at customer service.
---
Article appears in the Premiere 2015 Issue of The Hub So Cal Magazine.
Do you know that our editorial is not paid for, nor can it be purchased? In fact, our Business Profiles are not paid advertisements. If you'd like your business profiled, please email us at
info@thehubsocal.com
, and we'll walk you through the process. Thank you!
Business Profiles
,
Today
Diestco MFG Corp.