Wheelchair Ballroom Dance Workshop & Performance March 29

Mar 24, 2015 03:43PM ● Published by Brenna McGowan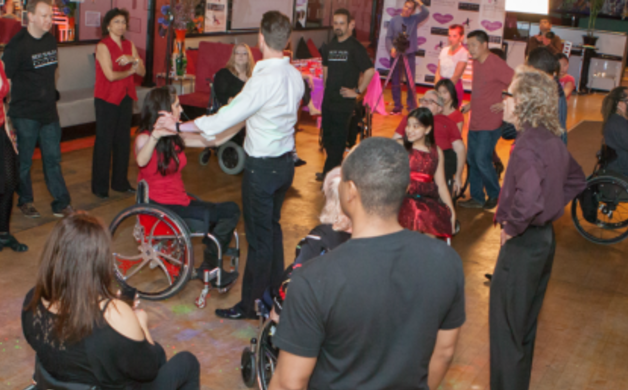 Infinite Flow--A Wheelchair Dance Company, is hosting their first studio ballroom dance workshop on March 29 at Edge Performing Arts Center, LA's top commercial dance studio, 6300 Romain St., Ste. 100, Los Angeles.
The 75 minute workshop will be followed by a performance demonstration by Infinite Flow company members.
This event is open to individuals of ALL ABILITIES; wheelchair users & standing partners. Children are welcome!
The Wheelchair Ballroom Workshop will be taught in Combi Form, wheelchair user partnering able-bodied partner.
Please wear blue!
Event Details:

4:45 p.m.: Registration (please come a little early so they can start the workshop on time).
5:00-6:15 p.m.: Wheelchair Ballroom Dance Workshop.

Around 6:30 p.m.: Performance & presentation by Infinite Flow company members.
Event ends at 7 p.m.
$10/Person cover for all adults
$8/Person cover for all children under 18

First 20 wheelchair users to arrive and register will receive a special gift!
** Those who wish to observe the workshop will still be charged a cover charge, as they will be giving a performance as well. They encourage everyone to participate. All participants and individuals on the premises during the workshop will be required to sign a general liability and media release.
Please RSVP to
InfiniteFlowDance@gmail.com
.
For more information, please visit
infiniteflowdance.org.
Post information and picture courtesy of Infinite Flow.
Health
,
Today
,
News
Edge Performing Arts Center