Eat Better, Shed Pounds

May 21, 2015 11:48AM ● Published by David Norby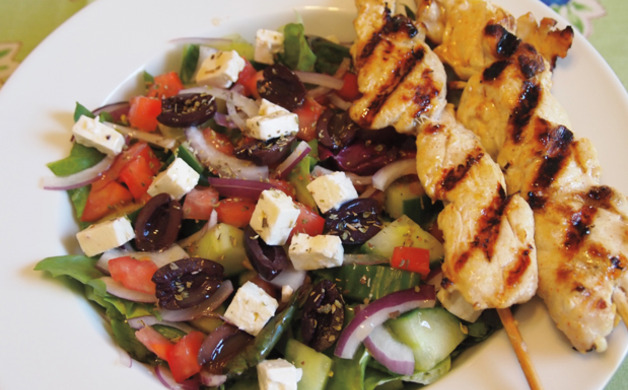 ON VALENTINE'S DAY 2006, I was paralyzed as a result of a motorcycle accident. I am a paraplegic, a T3-T4 ASIA A, complete. I returned to my chiropractic practice in Orange County, resumed family and community life as best as possible, with many thanks to my wife and friends. Over the next few years, though, I began to gain a significant amount of weight. Putting on the pounds comes with the territory for people living less active lifestyles, which is certainly the case for paralysis. For me, though, the weight wasn't only about body image or not fitting into my clothes – it affected my ability to make transfers and added extra stress on my shoulders. But what really got my attention was learning that I was heading toward serious blood sugar complications. 
During my semi-annual check-ups, my physician hammered me about the need to control my blood sugar levels and my weight. I finally paid attention when he informed me that I was 1/10 of a point away from being a type 2 diabetic. This news brought fear to my core – my father and grandmother both met their demise due to diabetes.
Genetics aside, I was part of an even higher risk pool: According to the medical literature, two in three individuals with spinal cord injury are overweight or obese, and experience glucose intolerance leading to type 2 diabetes at a rate three times higher than the general population.
At that point I made a decision to lose weight and take care of this problem. I had been an athlete all my life, and up until the injury, I had lived a fit, healthy lifestyle. Furthermore, I recognized that poor body image from being overweight contributed to the psychological battle of re-inventing my life after injury.
How was I going to shed the weight? I understood that this challenge would require what I call the 2 Ds…Desire and Discipline. For me, the desire to live a healthy life was based on my family health history. The discipline is closely linked to the desire, but a commitment to one day at a time made it easier to maintain. 
Utilizing professional resources and planning were key to the success of my journey. As a doctor of chiropractic, I had extensive formal training in clinical nutrition. As an athlete, I had experience putting to practice what I learned by way of my formal education, so I knew what to do. 
The first thing I did was to consult my partner and fellow chiropractor, Jeremy Sontag. As a former competitive natural body builder, Jeremy had practical knowledge of fat reducing eating habits. His mentorship and guidance helped me maintain the discipline.
The next step was to assess my daily caloric intake. I wrote down all foods and drinks ingested per day, including the weekend. Once I figured out my daily caloric consumption, I reduced it by ten percent to stimulate slow weight loss. My calorie intake was further reduced every time I reached a weight loss plateau. 
It is important to remember, you need to eat the right foods to lose weight. Whole foods replaced processed, canned, and frozen items. Foods that contained bleached flour or fortified ingredients where eliminated. Most dairy products, pastas, white rice, sweet baked goods, sugary drinks, sodas, including diet, saturated fats, fried foods, and high sodium were also taken out. I was diligent about proper hydration with water, and I restricted alcohol consumption.
In order to avoid low levels of blood sugar, I chose to eat five meals a day. Breakfast was never missed, followed by a mid morning snack, a healthy size lunch with protein, another snack, and finally dinner, no later than 7 p.m., since I go to sleep by 10.
The proteins that I consume include eggs, fish, chicken, turkey, lean pork and beef. I eat meat in small quantities and only twice per month. As for carbohydrates, I include fresh fruits and vegetables, including fresh berries, cruciferous vegetables, potatoes, green leafy vegetables, grains, legumes and the occasional slice of multi-grain bread. For fats, I use olive oil, grape seed oil, coconut oil. I eat unsalted nuts, in small quantities. 
Preparation for meals is crucial. Knowing exactly what to eat makes it easy to stay in the pocket. The occasional lunch or dinner out should be preceded by healthy snacks; the meal should include vegetables and sensible protein.
I lost 52 pounds in 18 months, strictly by eating right. I did not adapt any special exercise or fitness program. Exercise is recommended across the board for all individuals with paralysis. However, if a sedentary lifestyle is the only option, the right eating habits become the only way to avoid being overweight or obese. For me, it was all diet. I regained control of my blood chemistry without medication. I assure you, it is impossible to do this without having some "fun meals." Remember, everything in moderation is permissible, which means you can have the occasional ice cream, pizza or whatever you like, but in reasonable amounts. I do it once or twice per week.
I used a lot of tools to accomplish this: Taking time to eat, using smaller plates, chewing and tasting food thoroughly, eating heavier meals or proteins earlier in the day, drinking water, and going to bed "a little hungry," which means not eating late. 
Seeing and feeling results of weight loss gave me a great feeling of accomplishment. Wearing clothes that fit, transferring easier and faster, and having a positive self image motivate me to maintain these eating habits.
To take control of your eating habits, be consistent, prepare and don't allow yourself to get too hungry. If you mess up, start right back on it. Remember, this is a commitment to living longer, healthier, and happier.
---
Article by Dr. Boris E. Del Cid, D.C. © The Hub SoCal Magazine published by Style Media Group. Article appears in the May/June 2015 Issue of The Hub So Cal Magazine.
Health
,
Features
,
Today
Health and Wellness
Diet
Health
Health is Wealth