Wheelchairs in the Ballroom: Graceful Mobility

May 21, 2015 11:46AM ● Published by David Norby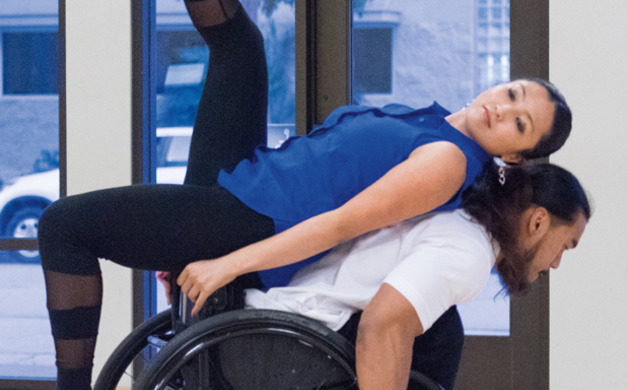 Marisa and Adelfo - Photography by Michael Hansel
Funny, I never thought I'd be ballroom dancing. I had participated in other forms of dance throughout my pre- and post-paralyzed life, including ballet, tap, jazz, and hip-hop. But ballroom? It just never made my bucket list. 
I have heard about wheelchair ballroom dance and wheelchair dancesport over the years. To my untrained eye, wheelchair ballroom always seemed like a nondisabled person pulling someone in a wheelchair around in circles, with occasional fast swivels and turns. It didn't look to me like the person in the chair was participating equally, or with the same level of technique. The wheelchair moves didn't seem challenging to me, and I like challenges, so I overlooked the ballroom style. Still, I knew about its big following in Europe and its place in the Paralympics, so I figured there must be something I was missing. Now I've experienced it first-hand; I realize I wasn't seeing it for what it truly entails.  
When I met Marisa Hamamoto in 2014 we instantly connected because we share the same mindset: Limitation is in the mind, not the body! She had her own experience of paralysis from the neck down from a rare spinal cord infarction and believed at the time she would never dance again. Although she eventually recovered all her mobility and remained a professional dancer, she found a new passion for teaching wheelchair ballroom and a desire to expand it to others in the community. I definitely wanted to help her spread the word, but never expected to "fall in love" with the art of ballroom dance myself. 
Marisa had just begun dancing with Adelfo Cerame, Jr., a professional wheelchair bodybuilder; I had the opportunity to watch their Rumba performance. I was captivated by the unique moves, choreography, and the level of connection they shared. I was so enthralled I didn't even notice a physical difference between them. I could tell the teaching style was top notch and shortly after, I joined a rehearsal with Marisa, Adelfo and Brian Fortuna, Marisa's professional nondisabled dance partner. 

Brian, aside from his previous professional dancing career on the popular television shows Dancing With the Stars and BBC's Strictly Come Dancing, was also the host and choreographer of a BBC show, Dancing On Wheels, which paired celebrities with wheelchair dancers for performance competition. His experience in wheelchair ballroom began with his mother. Sandra Fortuna, a highly respected ballroom coach and adjudicator, created the first wheelchair dance syllabus after someone in a chair came into her studio and wanted to learn ballroom. Not only did she find a way to teach that student, she also built a program so others could learn the official techniques necessary for a cohesive dance genre, from the Foxtrot to the Tango, the Cha Cha Cha to the Rumba. 
While progressing through the program, I felt the challenges of the intricate moves necessary to make the dance flow in a professional manner. It's not as easy as I thought and it's hard to make it look easy! Surprisingly, I learned new moves in my chair I could have only learned from someone who doesn't use one daily. Since the wheelchair is an extension of my body, I instinctively use it for doing what my legs cannot. Some movements feel counterintuitive to how I would normally use my chair. For instance, I may be creating the illusion of pushing my chair forward when I'm actually slowing myself down. I've learned how to use my wheelchair as a dance prop, which has been fun and refreshing! After just one practice, I was hooked and eager to share the experience with others.
Marisa's vision of creating a wheelchair ballroom dance company quickly materialized into an official non-profit, Infinite Flow – a Wheelchair Dance Company. This year the company launched its first community workshops, with great success. The first part of each event is a group workshop where everyone gets a chance to learn the basics of a new ballroom dance style. This is followed by an Infinite Flow exhibition of a fully choreographed piece. Because the workshop caters to people of all abilities and all demographics, everyone gets to experience something new and make it personal. I love being a part of these workshops because I get to witness some amazing personal transformations that happen during the two-to-three hour sessions.
Powerchair-user Eric Williams summed it up best: 
 "I've done a lot of cool things since being in a chair 18 years but last night was truly amazing. I felt the love for dance through your class and it felt as if I was really dancing!! I'm ready for the next class!"
Some came to the dance class thinking "ballroom just isn't my thing" but ended up joining in, having fun and proving to themselves that they can dance. Others came in just to watch and show support, with no intention of participating. "I wasn't sure I was going to be able to dance in my sip and puff wheelchair," said Russell Burke. "But soon I was dancing with the whole class!" He had a blast and wants to try it again. "It just shows that everyone, no matter what level of injury we have, we can still make it happen!"
Richard Bell, a quadriplegic, gave it his all and admitted he felt muscles he never even knew he had after one of the workshops. I met a woman who danced ballroom her entire life, but after incurring a physical set back thought she had lost the ability. When she got on the dance floor in her wheelchair, though, the moves came right back to her in the first five minutes. The smile on her face lit up the room.
A favorite moment from a recent workshop was watching Lourdes Mack, a 13-year-old girl who uses a wheelchair, pick up the moves quickly and enthusiastically. She was extremely happy to have a place to learn to dance where she felt included. I asked about her background in dance and she told me about an unpleasant, alienating experience in a ballroom dance class at her school. "At first I thought it was fun, but after a while I was annoyed when all the other kids keep saying 'ouch.'" After her first workshop with Infinite Flow, Lourdes said "It was great being able to dance with everyone else who didn't  complain that their feet were getting hurt!" She's also now confident enough to be able to teach others how to dance easily with her next time. It's fulfilling to know Lourdes gained an experience that will forever open her to the world of dance.
I'm so fortunate to have experienced what wheelchair ballroom dance really is and all it has to offer. The beauty of dance is in the way it nurtures a connection between two people, eliminates segregation of ability levels, and forms an equal ground ... or, an equal dance floor. •
For more information visit infiniteflowdance.org
Features
Dance
Infinte Flow dance
ballroom dance
professional dance