The Computer as Equalizer

May 21, 2015 11:45AM ● Published by David Norby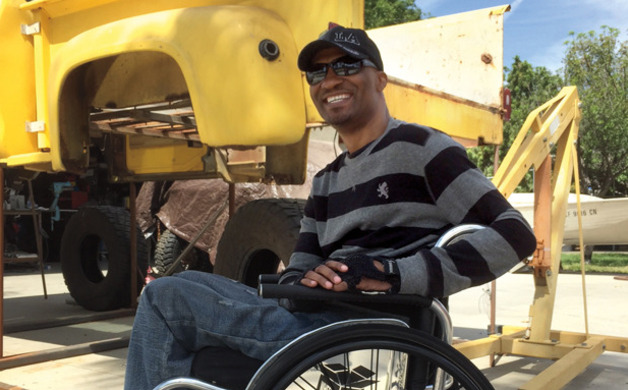 Joseph Ogbomon - Photo by David Richard
Half of the world's population is active on the internet -- learning, shopping, being entertained and sharing. We are all more connected than ever, and this is especially true for people with disabilities. "Computer technology is a powerful equalizer, a means of communication, convenience, employment and connection that promotes independence and freedom. 
Computer technology is the best thing that's happened to people with disabilities – as long as people have access to them" says Joseph Ogbomon who runs the non-profit Computech for Humanity from his home in North Hollywood. The goal of his charity is to make sure everyone who wants the power of a computer has one. 
"At times, you are confined to a bed, a room, a home without the option of just going out," says Joseph." It can feel like punishment, solitary confinement. I am not searching for a physical miracle, I just want to be connected with others because it is a natural human desire. Connecting and communicating with others is healing in itself. Expressing yourself, being heard, being answered, it means you still exist and have a voice." 
Joseph was paralyzed in 1998, (C6-7) the result of a car accident. As a person with limited mobility, he soon came to understand the leverage a computer gave him; he took computer classes and eventually found employment requiring computer skills. But as technology opened doors for him Joseph, a former teacher, began to see tremendous need in the disability community, for both computers and training. 
Technology + Passion: Computers for All
The idea was ready to combust; David Richard lit Joseph's fuse. David started a charity 25 years ago, Wheels for Humanity, which distributes wheelchairs to people in developing countries, free of charge. (David now runs Global Mobility.) At the WFH warehouse in North Hollywood, David and his crew often assisted local wheelchair users with repairs, and that's how Joseph came to meet David. Joseph likes to think destiny had a hand in this; he adapted the Wheels for Humanity model and in 2002 formed the 501 (c)(3) nonprofit Computech for Humanity, thus marrying his knowledge of computers with his desire to connect people to the digital age, and all free of charge.
Computech acquires donated computers, repairs and refurbishes them, and then gives them away to people with disabilities and low-income families with children. Joseph also educates first time computer users and sets them up with basic skills and an e-mail address to get them connected right away.
So far, over 1500 computers have been given to people in the Los Angeles area, and many also to Joseph's native country, Nigeria. Joseph has been dedicated himself to serving others via Computech for Humanity, which is funded primarily from his own pocket. 
The real reward for Joseph? "It is an amazing feeling when I see the expression of gratitude and love when I set someone up with a computer. In a networked world, the differences between high and low, rich and poor, disabled and able-bodied all melt away. My wish is that every disabled person and every child from a poor home will someday have a computer of their own so they have the chance to make full use of their talents and feel the love and equality between human beings which I experience every day of my life." •
If you are in need of a computer or wish to support or donate to Computech for Humanity, please visit their website: computechforhumanity.org
Article appears in the May/June 2015 Issue of The Hub So Cal Magazine.
Technology
,
Today
technology
computer
internet
non-profit SPOTLIGHT