Reinventing the Wheel(chair)

May 21, 2015 11:43AM ● Published by David Norby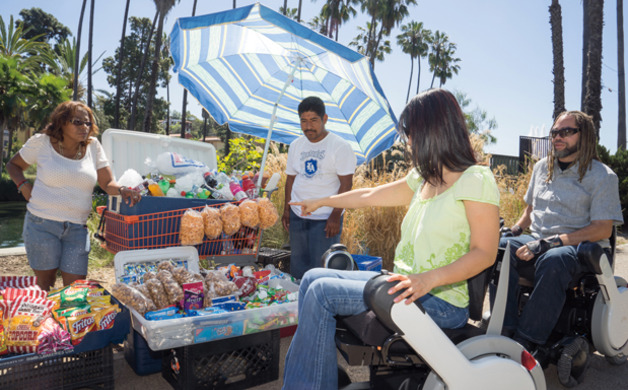 Here's a question for you power wheelchair users: 
Do total strangers ever come up to you and ask you about your ride, or compliment you on having such a fine means of mobility? Has anyone ever asked you to try it out? Well, meet the WHILL. Rhymes with chill. It's a chair. It's on wheels. It has two motors and a battery. It steers with a joystick/mouse. But the folks who make it don't call it a wheelchair. How about "omnidirectional four-wheel-drive mobility device?" 
It's fresh
, you have to admit it's sleek in a sort of minimalist way, and yes, approachable and very un-medical-looking. The people at WHILL claim their debut Model A chair is a high performance machine that will handle all sorts of terrain, including gravel, wet sand and even snow; it will climb a three-inch curb. It will turn on a dime as it apparently makes people feel less uptight about the physical impairment of the driver. 
This much is true, and we witnessed it several times in a matter of hours: People see the WHILL and want to almost pet it. They tell you it looks cool. They want to drive it. 
Ok then, let's concede there is more to this chair than getting from point A to point B. So what about this thing. How well will the WHILL whip the wild, wizened streets of Echo Park, LA? The company, based in the Bay Area, recently shipped The Hub a pair of WHILLs to test drive. Actually, we had three; WHILL Marketing Director Chris Koyama drove one, and shared it freely with me and several passersby, including the water vendor lady at Echo Park Lake, and a pair of Eastside hipsters, who probably didn't have a lot of experience with brand X mobility but deemed the WHILL "innovative and intuitive." 
For our test, we enlisted two veteran wheelchair drivers, Richard Bell and Cassandra Tang, who spent the better part of a day powering around town. It should be noted that while Richard and Cassandra live in hilly downtown LA, they are not power chair users. Richard is somewhat more restricted in upper extremity function, but both use lightweight manual chairs. Still, WHILL sees these two within the sweetspot of its marketing strategy – the second chair utility user. That would include a lot of aging people who are learning what the PWD community has been saying forever: you get old, you lose function. WHILL, in its marketing deck, is well aware of the fast growing segment of people hitting 80 years old, and who might benefit from some upscale personal mobilization. 
Richard and Cassandra enjoyed beating on the WHILL. Believe me, if they could have burned rubber, they would have; they cut the device no slack. Before we get to their evaluations, first, here's a little background on the product.
Be Cool, Not Pathetic
Satoshi Sugie is a Japanese engineer with design experience at Nissan. He had a neighbor in Tokyo who used a wheelchair. "He told me he had given up even going to the grocery store two blocks away. He didn't like being seen in public as weak or crippled." A central problem with wheelchairs on the market today, Satoshi says, is that they "engulf the user both in size and in ugliness." So he figured he might take a shot at reinventing the wheel (chair). "I wanted to make a wheelchair that would make the user feel confident and cool, while also using technology to improve their experience and capabilities."
So in 2011, Satoshi enlisted engineer pals in Japan and the WHILL project was born, at first just a weekend thing. They stayed with it, got a product and formed a company, eventually moving headquarters to the San Francisco area, where they lined up seed money. Last summer WHILL raised $35,000 with a Kickstarter crowdfund campaign – that's not serious money for a device start-up but it apparently churned up a lot of interest. Last September the company closed on $11 million from several Japanese and U.S. venture funds, and from Scott McNealy, the Silicon Valley tech billionaire who co-founded Sun Microsystems. 
Here's McNealy, who is also acting as an advisor to the company: "What I really liked about WHILL at first blush is that it made a wheelchair cool. It was sleek and hip and something I'd like to ride around in – just short of being a go-cart." 
McNealy, who thinks the company is uniquely positioned to tap a huge, growing market, doesn't have any obvious link to the phys dis world; he was attracted to WHILL because he's an investor who has a nose for solid return on the dollar. And because, as you will learn, WHILL is a very software-centric mobility machine that will, in future versions, further merge its hardware into the Cloud and the softness beyond. McNealy has introduced the WHILL guys to the Google guys who are pioneering the driverless car. How might this work? Imagine that LAX ordered a fleet of WHILLs to use moving passengers who need assistance. Without need for a human attendant, the chair could be programmed to take specific routes, say from Gate 87 to baggage claim. Apply that pre-mapped notion to amusement parks, museums and so on, you get the idea for networked mobility. 
All Directional Donut Demo
One of the first things you may notice when you see a WHILL gliding by is that the front wheels are quite large, almost ten inches. Moreover, they don't have normal looking tread and don't appear to roll as normal wheels do. They sort of moonwalk along the pavement. There are no casters – the chair can literally spin donuts on its own 27-inch axis, and the front wheels stay locked, straight ahead. They call these trick wheels "all directional" – there are transverse wheels within each wheel that allow side-to-side movement, thus enabling the chair to turn. Sharply. Very sharply. 
The company may not want this to get around but Richard, our speed demon tester, had been in the unit all of five minutes before he turned a little too suddenly and boom, he was rudely ejected from his WHILL. He's a quad so he couldn't break his fall and landed on his head. He was OK, he insisted, but the rest of us were freaked out. Granted, the demo chair was not fitted to Richard's exact specs. He needs more of what he called "dump," or deeper seating. And he could have used lateral supports that wrapped him in better. Kudos to Richard, though; he was undaunted by the wipeout and continued on with the road test.
The lesson, however, is clear: one's trunk support needs to be at least to mid-chest; the Model A, as currently configured, is not especially quad-friendly. For a power chair company, that leaves a lot of potential customers, indeed the very people who need the product most, on the sidelines. Richard has a power chair, presumably one of those pathetic stigmatizing gimpmobiles the Japanese guys are trying to replace. Normally, however, he uses a manual chair, with a seat belt. He'd likely appreciate a belt, and more support (and maybe a helmet) to make WHILL his daily driver. 
So OK, it's called Model A because you have to start somewhere. Maybe Model C will have a base to support a seating system and a vent, and could be powered by sip 'n puff, or by autonomous control.
Back to Echo Park. I wanted to start here to see how WHILL handled the steepest paved streets 
 in Los Angeles – maybe you haven't heard but at 32 percent grade, these streets are way steeper than anything in San Francisco, or in any other U.S. city. We chose Ewing Street, which ascends at an alarming incline from Echo Park Avenue, so much so that our noob WHILLists were disinclined to attempt it. But Chris, the company guy, gladly gave it a go, and did it go man go. If he hadn't leaned way forward he would have flipped backwards. Dang, that little scooter can climb. 
Before we headed over to Echo Lake Park for some flat areas to open up the top end, Chris showed us a few features. The WHILLs we had were hand-built in Tokyo; when the company scales-up, they will come from Taiwan. WHILLS have a smaller footprint than Richard's manual chair and weigh about 285 lbs., half of what a standard power chair weighs. The arm rests fold back and with a push of a button, the seat surface slides forward a few inches, facilitating easier transfer. The control unit is on the right hand, and is shaped more like a computer mouse. It's easy to get the hang of, especially if you've ever played a few rounds of Grand Theft Auto V, which is of course based in San Andreas, a noir stand-in for LA.
Cooler than the Fonz: The WHILL can be Bluetooth-controlled by an app on your iPhone. Not only speed and acceleration parameters, but actually driven remotely. OK, why would you want someone else driving? Maybe you are feeling especially passive. Maybe your a kid and your mom is moving you closer to the table. But imagine you're in a nightclub and you want to sit on the couch with all the normies. Just steer your WHILL out of sight and when you want it, just like the Lone Ranger used to do when he wanted Silver to come for him, you just phone over to WHILL and she'll be back to get you. 
Other specs: Chris says the chair will go about 12 miles on a battery charge; the company tells customers 10.6 miles, to be on the safe side. Maximum rider capacity, 220 lbs. Comes in white or grey, and features a red LED taillight. You can accessorize with a cup holder or front headlight.
Chairs and Drivers
We asked Richard and Cassandra to evaluate the WHILL the way Car and Driver tests cars, considering features, aesthetics, performance and overall impression. We wanted to know how they felt about the look and feel, the materials, the build quality, the comfort, the technology. Also, we wanted to know how fast it went, how it handled, and how stable it was while in varying degrees of centripetal distress. How did the controls feel? Finally, if it didn't come down only to money, would Richard or Cassandra want one? 
Sidewalks were of course fast and easy to start, turn and stop. Grass was no problem. We didn't encounter any serious gravel, or snow, but Chris assured that while the WHILL is not meant to be an off-road chair, it could handle moderate winter conditions. The beach? Forget about it: loose sand will eat this thing up. Curbs? Neither Richard nor Cassandra tried to scale a three-inch curb but as Chris demonstrated, the big front wheel easily pops right over. Factory specs say the WHILL will go 5.5 miles per hour. Not exactly blazing, but faster than a quick walker. Chris revealed that our demos were powered down for safety reasons, so we never did get to feel the full knees-in-the-breeze speed. Torque-wise, the WHILL dishes a bit of neck-snap, with very responsive controls. Like those hipsters said, it's very intuitive.
After tooling around the park a while we headed downtown to the Disney Hall to assess modern mobility against modern stainless steel architectural iconicity. Some photos were recorded, and alas, the Hub squad handed their WHILLs back to Chris, who was taking them to Las Vegas to show them off at Medtrade, a big medical product bazaar. 
The Way to a WHILL
A base WHILL runs just under $10,000. If you're familiar with the power chair market, that's not out of line. The company says about 50 WHILLs are in use in the U.S. and Japanese markets, and there are back-orders for more. The WHILL Model A is considered non-medical device and therefore it is not FDA-approved. Private insurance reimbursement is not out of the question but the sales model, for now, will mostly be cash customers. How do you get one? There is no provider network yet. You have to buy directly from WHILL. But the company really wants you to test drive it before you purchase. If you are in San Francisco, that's easy enough. Chances are there will be WHILL test drives in SoCal every so often. New York metro and Florida are the next two markets that WHILL will address. 
An important consideration with any new technology is maintenance and repair. With no dealer network, any problems have to be dealt with one-off by staff in San Francisco. Chris says there have been no issues in the last year or so of product placements. The warranty on WHILL is for one year. You'd think the most vulnerable component would be the front wheels; the company doesn't know yet what to expect in wear and tear.
Assessment consensus: Neither Richard nor Cassandra wanted to give their WHILL back. 
In proper Car and Driver form, we will revisit the WHILL after it's been around a while. Let's see what the real world is doing to the cool technology. •
For more see whill.us or call 844-699-4455.
---
Article by 
By Sam Maddox with Richard Bell and Cassandra Tang
© The Hub SoCal Magazine published by Style Media Group.
Photography by Michael Hansel
. Product photos courtesy of WHILL. 
Article appears in the May/June 2015 Issue of The Hub So Cal Magazine.
Technology
,
Features
,
Today
technology
WHILL
mobility
power wheelchair
features
product review