LA Settles Huge Sidewalk Suit

May 21, 2015 11:43AM ● Published by David Norby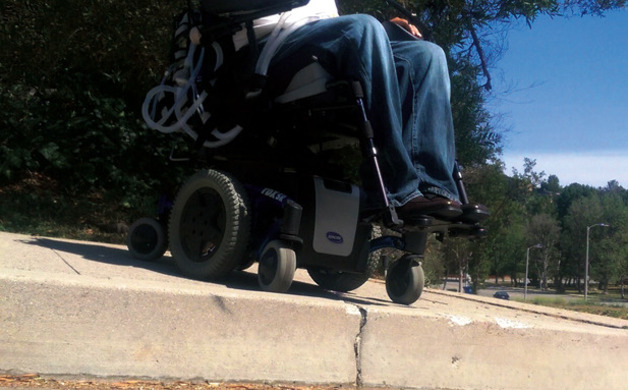 The City of Los Angeles settled a lawsuit in April that will result in $1.4 billion in city sidewalk repairs and other pedestrian improvements. This agreement, the largest disability access class action settlement in U.S. history, will ensure better access for those of us with mobility disabilities to the city's sidewalks, curb ramps, crosswalks, pedestrian crossings and other places people walk -- and where we will one day be able to roll. 

Despite what you may have read recently, courageous politicians didn't choose to fix the sidewalks. It was forced by a class action lawsuit brought by the tens of thousands of people living with mobility disabilities in Los Angeles. I, along with co-plaintiffs, sued the city in federal court in 2010, alleging that the city's sidewalks and curb ramps were in violation of the Americans with Disabilities Act. 
The lawsuit was named after me, Willits v Los Angeles, because my neighborhood had the most infractions. Other plaintiffs included Judy Griffin, Brent Pilgreen, and Communities Actively Living Independent and Free ("CALIF"). We were represented by a team of lawyers led by San Francisco class-action attorney Guy Wallace, Oakland civil rights attorney Linda M. Dardarian, Jinny Kim of the San Francisco-based Legal Aid Society-Employment Law Center; and Paula Pearlman and Shawna Parks of LA-based Disability Rights Legal Center.
It's About Time 
If you've ever ventured out in Los Angeles, you've seen the terrible condition of the sidewalks. Tree roots uplift concrete sections into what looks like a dirt bike trail. Impassable gaps swallow caster wheels and sometimes flip wheelchairs and the person in them over. Curb ramps don't exist at crosswalks which force wheelchair users into the street dodging fast-moving cars. All these problems make it difficult and sometimes impossible to get around Los Angeles in a wheelchair. 
It's not like the issue snuck up on government officials. The city of Los Angeles estimates that 40 percent of the city's 10,900 miles of sidewalks are in need of repair and that 75 percent of intersections do not have ADA compliant curb ramps – fully 25 years after the ADA became law. The numbers speak volumes. Various proposals have been made in years past to remedy this enormous problem, but the city has repeatedly failed to meet its responsibility of providing basic infrastructure to its citizens. The city has also fought numerous lawsuits attempting to force the city to repair sidewalks over the past few years and has recently wasted $5 million per year paying trip and fall claims to people injured on decrepit sidewalks.  
Where I live, in Woodland Hills, more than 90 percent of intersections around my home do not have curb ramps. Many sidewalks have been uplifted by tree roots, which make the sidewalks completely impassable to me in my wheelchair. So if I want to grab a bite at a local restaurant, I'm forced to wheel into the street, dodging cars and trying not to end up as road kill.
After several close calls with cars, I decided something needed to be done. With the help of The Disability Rights Legal Center and other private attorneys, we had no choice but to file a class-action lawsuit to force the city to fix its sidewalks and install curb ramps at intersections. Our lawsuit alleged that the city violated the ADA, which prohibits discrimination on the basis of disability; we claimed that the city was denying the rights of people living with mobility disabilities to equal access throughout the city.
Another pair of lawsuits similar to ours settled in California State Court in 2011 and gave the city 200 years (!) to repair sidewalks and install curb ramps. We in the disability community were outraged at this head-in-the sand attitude. At that point, our case, already filed in federal court, became the best hope for fixing the sidewalks.
What Does it Mean
A $1.4 billion settlement is a huge victory for wheelchair users in Los Angeles. While the deal gives the city 30 years to get the job done, the settlement forces the city to repair broken sidewalks and install curb ramps beginning immediately. The city doesn't have a specific plan yet, but "the agreement calls for a $1.4 billion investment in the city's sidewalks and other walkways over the next 30 fiscal years, starting at the beginning of FY 15-16. Annual investments will range from $31 million during the next five years to more than $63 million in years 26 to 30. The amounts increase over time to ensure value is not lost due to inflation." 
Los Angeles Mayor Eric Garcetti called the settlement a "big move in the right direction," which sets the stage for creating a "comprehensive sidewalk repair plan." "This agreement shows how we are changing the way we do business at City Hall and are getting back to basics," said Garcetti. "Instead of fighting against fixing our sidewalks, we came to the table to reach an agreement to invest more than a billion dollars in our sidewalk infrastructure – which will improve access and safety, and boost property values and neighborhood pride."
Our lead counsel, Guy Wallace, commenting on the case: "By making the city's sidewalks and crosswalks accessible, this settlement will make it much easier for persons with mobility disabilities to get to and use government facilities, to find or get to jobs and workplaces, to go shopping, to go to the doctor, to participate in community life, and to be with their friends and families."
"Under the settlement, people with disabilities will also be able to make requests for access fixes in their own neighborhoods, such as for curb ramp installation, or tree root repairs. Over the course of the settlement, the city's sidewalks will be transformed. And the lives of persons with mobility disabilities will be made a lot better."  
Lillibeth Navarro, a co-plaintiff and Executive Director of CALIF: "This settlement vindicates the central purposes of the ADA: access, independence and equality. Now people with mobility disabilities will be able to go where they need to go, and also where they want to go.  That is what the ADA is all about."
Garcetti is right, we have made progress toward our goal of equal access throughout the city, but much work remains. The disability community will still need to speak up and fight to ensure that the progress continues. 
So what lessons should we learn from this experience? As members of the disability community, we must demand action from our elected leaders when we are being treated as second-class citizens. We must support organizations like the Disability Rights Legal Center and Communities Actively Living Independent & Free (CALIF) and other attorneys engaged in fighting for civil rights. 
Most of all, we must stand up and fight for our rights when they are being violated. We must demand equal access and opportunity and nothing less. History teaches us that only those affected by discrimination can end discrimination. We must stand united. •
Features
,
Today
,
News
City of Los Angeles
lawsuit
historic
settlement
disabled rights