Triumph Foundation: Paving the Road to Recovery

Jul 09, 2015 02:04PM ● Published by David Norby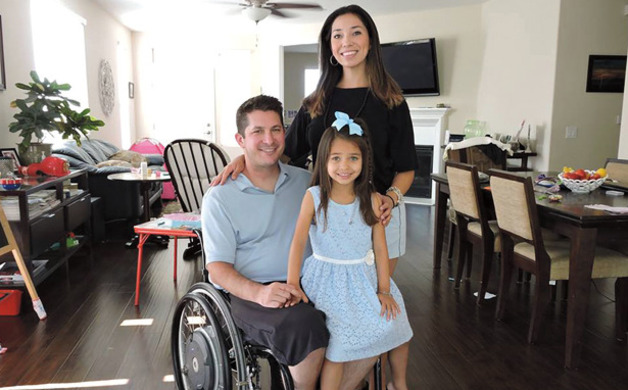 Andrew, Kirsten and Betty Skinner
"In the depth of winter, I finally learned that within me there lay an invincible summer."
—Albert Camus
When talking about Andrew Skinner, a self-proclaimed "recovering quadriplegic" who found intrinsic value in his injury, this quote is rather fitting. He serves as the executive director and driving force for Triumph Foundation, a 501(c)(3) non-profit organization created to pay forward and share SCI resources, support (at times, bedside), mentoring and hope that was afforded to him after his accident in November 2004—a spinal cord injury (level C-4, 5 and 6) that hasn't stopped him from pursuing his path as a businessman, a husband, a father, an athlete or a passionate leader.
 Initially, Triumph's mission was to bring holiday cheer, good spirits and hope to those spending their holidays in a hospital rehab. It has grown from pizza parties and a handful of holiday gift baskets, to delivering approximately 200 well-stocked baskets year-round to rehab facilities all over Southern California.
The nonprofit empowers people who once believed their lives to be uncertain post spinal cord injury. In addition to their regularly scheduled wheelchair sports clinics and festivals, which honor Skinner's belief that we're "getting better every day," Triumph has been equipped to provide small scholarships, minor home modifications and about three vehicle giveaways. People of all abilities are welcome to Triumph outings and events like the annual "Let 'Em Roll Casino Night" fund-raiser and gala.
Skinner claims to be a regular guy, which sounds convincing when he talks about his wife Kirsten, a kindergarten school director, and says things like he just came from a day of meetings, a "school pickup" to take his four-year-old daughter, Betty, to grab some ice cream, and long checkout lines at the grocery store—and his reasoning is this: "I couldn't do it on my own. It's so much bigger than me. It's the volunteers and ambassadors that have made Triumph Foundation what it is today. I'm just a guy that wanted to help others find their way after having their lives shaken up." 
To learn more about upcoming events, sport clinics (equipment  and able-bodies at the ready), 
SCI resources and more, visit triumph-foundation.org. Sponsored by ralph's riders foundation  www.ralphsriders.org.
---
Article By Olivia Almalel © The Hub SoCal Magazine published by Style Media Group. 
Photography courtesy of their respective companies/organizations. 
Article appears in the July/August 2015 Issue of The Hub So Cal Magazine.
Health
Triump Foundation
spinal cord injury
Andrew Skinner
non profit