Travel Tip: Cool Coastal Access

Jul 09, 2015 02:18PM ● Published by David Norby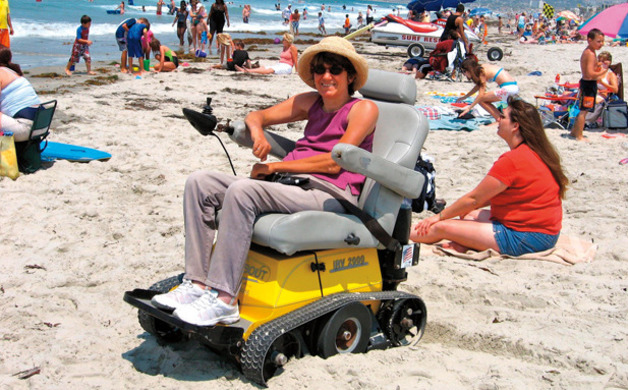 It's summertime and what's on our minds? The beach! If you use a wheelchair for getting around town, you know the half-focused feeling as you flip through glossy travel magazines, daydreaming of blue skies, even bluer water and white sand beaches dotted with palm trees. "Looks sweet," you say, "but where's the access? I'm stuck in the sand." Well, be stuck no more. Bonnie Lewkowicz has arrived to dig us out and point us toward SoCal wheelchair access, so we can hit the beach and keep on rolling. 
I think of Bonnie, a C5-6 quadriplegic from a 1972 all-terrain vehicle accident at the age of 15, as the disability community's John Muir. She's an advocate who understood early in her wheel life that adventures in nature are a must for a balanced and healthy quality of life. Of course, back in the '70s and '80s there wasn't any outdoor access, documented or not, so Bonnie set out on her own to satisfy her adventurous spirit. 
Why the attraction to outdoor travel and beaches? "Maybe after becoming disabled it was a way to open the world to me because so many things were closed. It was a way that I could meet new people, have new experiences, and a sense of doing something [for] the first time on my own [where] I'd get the feeling that I can do anything." 
Reliable Access Information
After she earned a degree in recreation therapy, Bonnie became one of the first travel agents to specialize in accessible travel and made tourism and outdoor recreation more accessible to people with disabilities. "I realized that one of the biggest barriers that prevented most people with disabilities from having rewarding travel experiences was the lack of reliable access information. My mission was to educate and inform tourism and recreation personnel about how to best serve people with disabilities, but after seven years, I was still anxious about my clients encountering access problems on their trips; so in 1997, I started the nonprofit Access Northern California, [in order] to work on a local level and personally inspect hotels, attractions, parks and trails. This way I can verify access and share this reliable information in guides on the website."
Enter the California Coastal Commission and California Coastal Conservancy, both California state agencies with the mission to provide access to the California shoreline. There wasn't any data on access for people with disabilities, so Bonnie was brought in to write the original access guide for the San Francisco Bay and the nearby coastal areas. She also produced editions for Los Angeles and Orange County beaches. "The Coastal Conservancy saw how well received and in demand these books were," says Bonnie. "They realized the need to create data for all California coastal counties."
Alas, the books are not in print but exist in the easy-to-use formal wheelingcalscoast.org  created by Bonnie with funding from the Coastal Conservancy.


Travel Tips
Most beaches in SoCal, from San Luis Obispo to San Diego, make available special wheelchairs for sand access, and a number of San Diego area beaches offer a very cool power chair option. Advance reservations are a good idea, but the chairs are available on a roll-up basis: Just find a lifeguard station and ask them. For a list, visit coastal.ca.gov and click on the "Borrow a Beach Wheelchair" link on homepage. 
How Many Coastal Trails are There?
 "One hundred sixty trails are listed on the site, and I have looked at 85 percent of them," says Bonnie. "What makes the website unique is that each site was visited by a wheelchair user to gather in-depth access information providing enough detail to allow users to determine for themselves if a site meets their particular accessibility needs, including accessible features of the restrooms, parking areas, average cross-slopes and grades of trails, as well as firmness and width of trail surfaces. There are public transportation and seasonal shuttle links for finding the best routes to the beach of choice. One popular feature is a beach wheelchair available for loan."


Best Beaches
I asked Bonnie where the best beaches are, SoCal or NorCal? "Depends on the experience you're looking for. SoCal is better for experiencing the beach. The beaches are warmer and flatter, with urban-type activity centers, while NorCal beaches are colder, rocky and passive with far reaching vistas." 
Where's Bonnie's favorite SoCal beach? "I have two favorites: Mission Beach in San Diego (it has free loaner power beach chairs) and Doheny in Orange County (it has an accessible palapa!)."
For more information, check out Bonnie's site accessnca.org  For all California beaches that have been surveyed, visit wheelingcalscoast.org. If you head out to one of these beaches, and you love it, drop the Coastal Conservancy a line about your swell experience. Bonnie says Conservancy funding has ended and will only be reinstated if there is interest.
---
Article By Candace Cable © The Hub SoCal Magazine published by Style Media Group. 
Photography courtesy of their respective companies/organizations. 
Article appears in the July/August 2015 Issue of The Hub So Cal Magazine.
Travel
,
Today
Travel
summer
travel tips