Ezra Frech: Angel City's Multi-Sport Champ

Jul 10, 2015 10:42AM ● Published by David Norby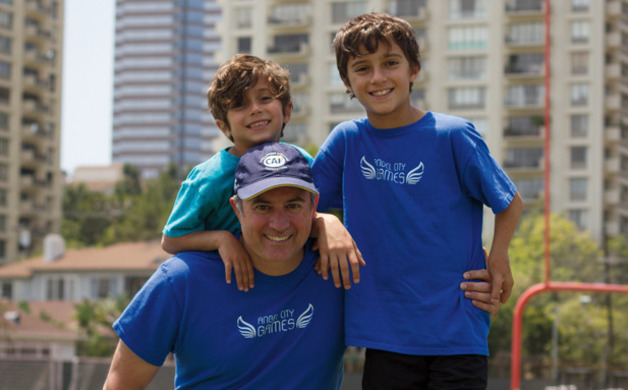 Ezra with dad Clayton and brother Gabriel.
 Ezra Frech is a smart, talented and athletic young man who dreams of becoming a professional athlete, preferably an NBA player. He says he would consider a career in broadcasting, or maybe start his own business making gum. He's not too into girls, "maybe one or two. I like girls who are kind, smart, athletic and pretty." Pretty much the typical 10-year-old—only Ezra Frech is hardly typical.
Ezra was born with a congenital anomaly that caused his left leg to be considerably shorter than the right; it also resulted in him having only one finger on his left hand. This glitch in his physical development required an above-knee amputation and the relocation of his toe to his left hand to serve as a thumb. The amputation was considered relatively easy compared to the transplant, but both required precision and were performed simultaneously when Ezra was two-and-a-half.
"When Ezra was born, my wife Bahar and I were initially at a loss about what to think, or do," recalls Clayton Frech, Ezra's father. "We were told Ezra was completely healthy but there were limb issues. The doctors assured us that Ezra was a happy, bright, healthy little guy and that in no time we would be chasing him around just like any other kid."
The Freches were relieved that their first-born child had no health issues, but they spent the next few years taking it one day at a time. Clayton thinks back, "I put on a tough face, but I'm an athletic guy and an avid surfer. I knew nothing about disability and I mourned the thought of my son not being able to surf." Initially, Clayton found refuge in the ocean. He tackled wave after wave on his board, often fighting back tears, he says, as he pondered the uncertainty of his son's future.
When Ezra was still a tyke, the Frech family was introduced to Alcino Neto, more widely known as Pirata, a Brazilian surfer who happened to be an above-knee amputee. "It was incredible," says Clayton. "That guy is a top-notch athlete and he rips the surf all year." The positive impact Pirata made just being himself kindled an immediate friendship. It helped him out of his dark period, Clayton says. "I suddenly realized my kid could do anything he wants. Luckily, it turned out he loved sports."
A Champion Emerges
Ezra doesn't just love sports—he excels at them. As soon as he learned to control the transplanted toe on his left hand, Ezra began throwing a ball. He was three. He hasn't stopped since. Ezra's recent athletic accomplishments include setting seven national track and field records at the 2014 National Junior Disability Championships, and starting as quarterback for his school's flag football team. Ezra also recently received his blue belt in karate and was a finalist for Sports Illustrated Magazine's SportsKid of the Year Award in 2014. Here's what Ezra told Ellen DeGeneres on national TV last winter: "When I play sports I feel at home, I don't feel different, I feel like I'm just one of the guys."
"I just like sports," says Ezra. "I mean, who doesn't like to run, jump and play?" His favorite sport is basketball; in 2013 he won the Courage Award at the Kobe Basketball Academy, and last summer he led his basketball team to an undefeated record season. Ezra can't help but smile when asked about playing. "It's that amazing feeling you get when you make a three, put in a jump shot, or score any point. The way the ball glides through the net—no rim, just net. It's the teamwork, everyone working together, and the celebration when you play hard and win…especially if someone lands a deep three, game-winning buzzer beater. There are so many things I love about the game." 
Ezra would like to play basketball in middle school, high school and beyond. He even hopes to play for a good college team someday and possibly get a shot at the pros, but with limited resources available for athletes with disabilities, Ezra's journey to become a professional athlete will be harder for him than his able-bodied counterparts. He'll continue to compete on school sports teams, as well as in adaptive track and field events, and, no doubt, will excel. Seeing him as a paralympic athlete is almost a given; however, the opportunity to hone his craft and compete on the same path as his able-bodied competitors is limited. 
Clayton pondered this situation. "I had taken Ezra to adaptive competitions in Iowa, Arizona and Oklahoma." It was on the track in the middle of the Oklahoma event that Clayton suddenly realized that it was tornado season. He recalls thinking, "Why are there not more events in Southern California?"
SoCal Opportunity: Involve Everybody
It was that brainstorm that led Clayton and Team Ezra to form the Angel City Games, the only multi-sport event in Los Angeles for youth, adults and military with physical disabilities. The first Annual Games were held at UCLA's Drake Stadium June 19-20, 2015. Athletes from across southern California, and throughout the U.S. gathered to compete in track and field and wheelchair basketball games. 
Clayton shares his dreams about the potential impact of the games. "I've been monitoring the adaptive sport world for almost 10 years and not everything in Southern California meets the needs of athletes with disabilities. There are not enough camps or actual competitions. I hope the Angel City Games can grow and become a place of unity that celebrates all sports, all ages and all levels of disability. We want to involve everybody."
The Frech family's attitude of inclusiveness and determination to create opportunity has helped Ezra acknowledge his differences and excel. But that philosophy doesn't stop with Ezra. Gabriel, Ezra's younger brother, admires Ezra and likes him because he's so funny. But Gabriel is more artist than athlete, and the Frech's support his endeavors with as much enthusiasm as they support Ezra's. 
The family's experience with disability has made them appreciate individual differences and has opened their eyes to a world of which they were simply unaware. Clayton remarks, "My life is in a whole different place. I didn't know this world existed. I didn't pay attention. We, Team Ezra, and the Angel City Games see it as our place to help tell the stories of a variety of diverse athletes with disabilities—not just Ezra's. We want Angel City Games to become a venue where athletes learn, grow and develop in whatever sports are available, as well as compete against athletes who have the same level of disability. Our ultimate goal is to stimulate more adaptive sports in high schools and universities, so athletes with disabilities have the same opportunities to pursue athletic-related educational or even career path as their able-bodied counterparts." And if Team Ezra and Angel City Games can do that, then Ezra's goal of becoming a professional athlete just got a little easier.
---
Article appears in the July/August 2015 Issue of The Hub So Cal Magazine.
Features
sports
Angel City Games
athlete
youth
youth sports