Ed Roberts: Soul of the ADA

Jul 15, 2015 09:42AM ● Published by Sam Maddox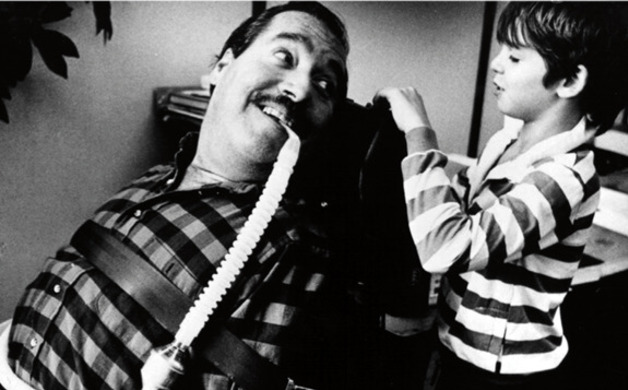 Ed with his son Lee
The community is celebrating the 25th anniversary of the Americans with Disabilities Act this month. It's too bad Ed Roberts couldn't be at Dodger Stadium on July 26 to reflect on the importance of this law. Roberts was a polio quad whose advocacy formed the soul of the ADA. Back in the early 1960s, he began to understand that disability rights are civil rights and learned that people perceived as weak could fight discrimination only by becoming strong. And to become strong, the community had to join together to form a movement. 
Roberts helped start the first Independent Living Center in the U.S., in Berkeley. He was once told by the California Department of Rehabilitation that he was too gimpy to ever find work; a few years later he was appointed head of the entire department. Roberts passed away in 1995, but he did get to see the ADA come to fruition. Let's dedicate the 2015 ADA celebrations to Ed Roberts, and to mark the occasion, let's hear from the man himself:
Speech in May 1980:
When I was at UC Berkeley in the '60s, I and almost every other student on campus—became involved in the civil rights movement. We were fighting for the basic rights of black people. But, during my involvement in that movement, I suddenly realized something that has since been extremely important to me—that I'm part of a minority that is as segregated and devalued as any in America's history. I am part of the disabled minority. I quickly found that other disabled students shared my feelings. We all felt a sense of anger, frustration and isolation. The more we talked, the more it became apparent that we needed to organize if we were to create our own civil rights movement. 
Speech in Singapore, 1982:
When I was 14, totally paralyzed, and in an iron lung, the doctor turned to my mother and said, "Well, you might as well forget it. No matter what happens, your son will be a vegetable for the rest of his life." I'm real proud today to appear before you as a green pepper, or a carrot, or whatever vegetable you like. I'm here. Many of you can relate similar stories. What's happening, I think, is that those of us who are the vegetables of the world are uniting, and we are rising up, and we are not going to stand to be second-class citizens.
Speech in 1983:
We must learn to have pride in who we are. I'm very proud of being a disabled person. I didn't choose it, but I'm proud as hell that I've been able to do what I have with my life. And I'm getting prouder all the time as I look out and I see you and thousands of other disabled people joining us and saying "We are not going to take it, it's time we got involved and turned this around." No one else will do it for us. If we have learned one thing from the civil rights movements in the United States it's that when others speak for you, you lose. 
Speech in Russia, 1993:
There's a very important thing we've never talked about. Our sexuality and our need to be married and have children and be just like everybody else. I was just like everybody else before and I still am. I have the same desires. I want the same things. I want to work. I want to play. I want to make choices that I want to do. And that's what this movement is all about. It's to welcome people back into society.
SPEECH IN 1977:
From a 1977 victory rally speech at the end of a 28-day occupation of a San Francisco federal building (the longest such occupation in U.S. history) by 150 demonstrators to protest the Carter Administration's reluctance to sign Section 504 of the Rehabilitation Act. The law was signed, and for the first time, it was illegal to discriminate based on a person's disability: 
We have begun to ensure a future for ourselves, and a future for the millions of young people with disabilities, who I think will find a new world as they begin to grow up—who may not have to suffer the kinds of discrimination that we have suffered in our own lives, but that if they do suffer it, they'll be strong and they'll fight back. And that's the greatest example, that we, who are considered the weakest, the most helpless people in our society, are the strongest, and will not tolerate segregation, will not tolerate a society that sees us as less than whole people. But that we will together, with our friends, reshape the image that this society has of us. We are no longer asking for charity. We are demanding our rights!
---
Article By Sam Maddox. © The Hub SoCal Magazine published by Style Media Group. 
Photography courtesy of their respective companies/organizations. 
Article appears in the July/August 2015 Issue of The Hub So Cal Magazine.
Features
,
Today
disabled rights
Civil Rights
American Disabilities Act