Brad Parks Returns to the Waves

Jul 16, 2015 09:30AM ● Published by David Norby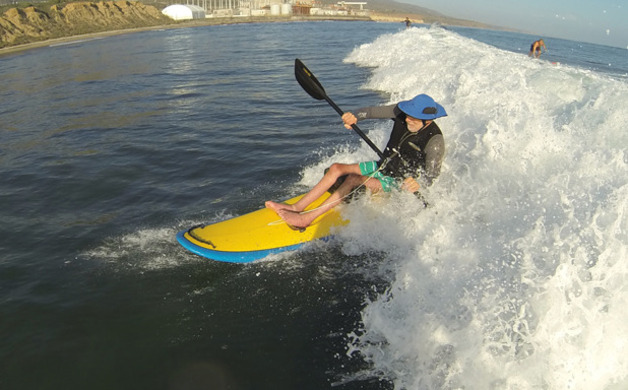 Brad Parks
After several strong paddle strokes, Brad Parks felt the board tap into the wave's energy and propel him onto the glassy face. Angling to the right, he accelerated, staying ahead of the peeling shoulder of white water and drew a clean line across and down the wave. When he got to the bottom he set the rail, nosed up and pulled out. He was stoked! Paddling back to the lineup, he had an ear-to-ear grin—his first wave in 38 years! It was the summer of 2013 and he was on an adaptive sit-down surfboard called a wave ski.  
Parks, 58, of San Clemente, is a T12 complete para. Growing up in Southern California, Parks' passions were surfing and skiing. He honed his wave-riding chops in the late '60s on the breaks made famous by the Beach Boys, at Newport and Huntington Beach, then Trestles and Cottons in the '70s. "Back then you had to hike through cow pastures to get to some of the more remote breaks," he recalls. A ski crash at the age of 18 put an abrupt end to both sports for Parks. Shortly after rehab, he tried surfing by lying down on his regular board but it didn't work. "The board design wasn't right," he says. Although there was a sadness of not being able to access sports he loved, he switched his focus to tennis and made history. He started the National Foundation of Wheelchair Tennis, helped grow the sport worldwide, earned multiple championship titles, and is a member of the International Tennis Hall of Fame. 
 Rewriting the Summer Story
Twenty years ago, Parks returned to skiing using a mono-ski. Although he says he was aware of the developing adaptive SoCal surf scene beginning around the year 2000, surfing remained low on his radar until recently. "The stars aligned when I went to see a screening of a re-digitized version of Five Summer Stories, a classic surf movie that inspired my surfing all through high school," he says. "I ended up sitting in front of my high school surfing buddy Jeff Vasquez, whom I hadn't seen in years." Vasquez told Parks how he was into stand up paddleboard (SUP) surfing and had friends who are adaptive surfers at his regular break. He offered to set Parks up with a board and take him out. Parks agreed, figuring it would be a fun, one-off thing.
Two weeks later, Parks showed up at Dogpatch, a mellow, rolling break at the southern end of San Onofre State Beach, where the SUP surfers, sit-down surfers and adaptive surfers ride. Vasquez had borrowed a wide, easy-to-balance beginner wave ski—an adaptive board that you sit on and propel with a kayak paddle—from veteran wave skier Mark Thorton, a T4 para from Carlsbad. 
"Dogpatch has a good adaptive scene," Parks says. There is an area of rubber matting that goes down to the water and a two-wheel trailer for wave skis that stays at the beach—the locals know the combination. The trailer fits under the back of the board, about the same height as a wheelchair. "It was a simple transfer from my chair to the board. When I was set, Jeff grabbed a handle on the front and wheeled me into the water and I started paddling."
Parks' first two attempts at dropping in didn't go as planned. "I wiped out on the first couple of waves," he recalls. "I would flip over and have to wait a bit to get back on the board because more waves were coming at me—plus getting up on the board is tricky. Mark was there and he showed me how to get my legs to float behind me so they didn't float under the board and get caught."
On the third wave, Parks caught and rode it, then paddled back to the lineup, reveling in the thrill of surfing again. "Catching that first wave was just amazing! It is the mono-skiing equivalent for surfing," he says. He was hooked and knew he would be buying a board.
Board Choices
Parks tried many different boards and asked lots of questions. "A custom board is about two grand, so I wanted to get it right the first time," he says. "Wider boards are more stable and easier to stay up on, narrower boards turn better but are harder to balance on. Do I go with a backrest? Do I use a quick-release seatbelt? This is more stable for turning but when you get flipped over you have to be able to keep your cool and find it and release it upside down in the whitewater and not drown." After trying many different boards and asking lots of questions, Parks had a 27-inch wide wave ski custom shaped for him by Steve Boehne of Infinity Surfboards—no backrest but with the seatbelt.
These days, Parks surfs at least once a week. He lives in San Clemente and has his choice of surf breaks but keeps returning to San Onofre for the mellow waves and the positive vibe. "It's like a time capsule to the early '60s endless summer of friendly spirit," he says. You drive up and park on the beach. A wheeler with a board can show up solo and make it happen. "Whenever I'm getting my chair out of the car somebody will walk up to me and say 'hey, you need a hand getting your gear out and getting into the water?'" he says. There is a culture of people that have been surfing there for decades. "Over the years, folks have planted palm trees and built straw huts and it's a real gathering. People are welcoming—they trade phone numbers and it seems like there are always barbecues and get-togethers."
The positive vibe extends into the water at Dogpatch, too. Surfers in some places are protective of their locals-only scene—not so here. It's a classic spot, like Waikiki. Waves break slowly, offering long rides on mellow shoulders, and you don't get thrashed if you end up in the white water. "Another cool thing about Dogpatch is that a lot of able-bodied surfers also wave ski, so when you're in the lineup you can't tell who is disabled and who isn't, no matter if it's a sit-down board or a laydown board."
Parks is still working through the wave ski learning curve. "Each day I go out, I get a little better, with better balance and paddle skills to handle chop," he says. "I'm sure I will travel to other spots with good access that are popular with adaptive surfers like Oceanside, Carlsbad and Doheny." He's also tempted to compete in surfing contests. Thorton has organized adaptive divisions in quite a few surf contests. "Mark has invited me to compete in contests, and it would be really cool to be one of four other guys in the water at famous surf breaks like Rincon during your heat."
 There are two types of adaptive surfboards. Laydown boards are concave and may have pads to keep legs in place and hand straps to grab and angle the board for turning. Sit-down boards, called wave skis, are propelled with a kayak paddle. A key feature of both is having more rocker, the upward curve at the front of the board. That's so the nose doesn't dig into the water. Adaptive wave skis have a scooped out, padded seat and options including quick release seat belts and knee rests for stability, and backrests for higher level injuries. Beginner wave ski boards are wide, stable and easy to balance; high performance boards are narrower for quicker turning, but challenging to balance. Laydown boards and wave skis come in tandem versions—great way to experience the sport, learn about catching waves and gain skills to ride on your own. Pictured above is a Wavejet: yep, jet powered, and easier for a laydown surfer to move from shore to wave.  
Family Surf Time
"Surfing has also become a great way to spend time with my family," Parks says. He surfs with his 25-year-old daughters Maiah and Sarah, and cruises flat waters around Dana Point with his wife Wendy, who uses a SUP.
"It's a great workout and a blast to be in the sun and the ocean. When I come home from a session, I have the same relaxing saltwater-tired feeling I did in my youth," he says. "There are days when I'm sitting out there with Jeff in the lineup, and we're talking about family and our younger days surfing together, and we are reliving it. It's a second chance to do what I love."
Discover more about adaptive surfboards and surfing:
Infinity Surfboard Co., Adaptive Surfboards 

Surfing for Everyone: Life Rolls On

---
Article By Bob Vogel. Photography by Jeff Vazquez. 
© The Hub SoCal Magazine published by Style Media Group. 
Article appears in the July/August 2015 Issue of The Hub So Cal Magazine.
Features
,
Today
summer
athlete
recreation
surfing
adaptive sports