Music Matters: Making Festivals Accessible to All

Jul 17, 2015 09:23AM ● Published by David Norby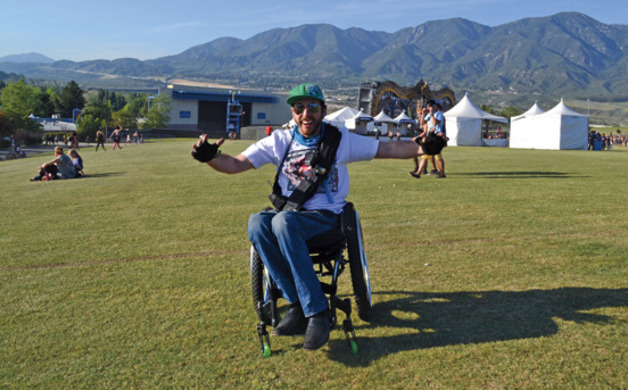 Austin Whitney
Music is a powerful source of transformation, and we all know that live music ratchets up the power even more. Austin Whitney, the founder and executive director of Accessible Festivals—a company built on the simple notion that music does the soul good, and therefore must be available to all people of all abilities—describes his story of music and redemption.
Austin is Saved
"Rock 'n' roll saved my life—undoubtedly and unequivocally. Eight years ago, I was a mess…an absolute wreck. I crashed my car into a tree and suffered a complete spinal cord injury. I was told I'd never feel sensation in my legs again. I was 18 and this sounded like a death sentence. Instead of going to college as planned, my life was completely derailed. I never knew anyone in a wheelchair before my injury, and I expected that every goal and aspiration I'd developed in my young life were now beyond my reach. I figured my professional goals were dashed, that adventure was a word I'd never use again, that I'd never feel the embrace of a woman again, never take another step with my own legs, and that happiness was an emotion I'd no longer feel. I can't find words to accurately describe the hopelessness I felt in those early days.
Five months after my accident, my life was starting to move forward again. I started college, finally got a wheelchair of my own, and had made some new friends. Then an unexpected life-changing moment occurred: I saw a festival lineup with Roger Waters of Pink Floyd headlining. Like many kids, I grew up to the soundtrack of Floyd. So boom, I saw Waters' name on that lineup and knew there was nothing I wanted more in the world than to see that show. He was set to play 'Dark Side of the Moon' in its entirety and all of my new friends were going. I started getting excited but my mindset was quickly overshadowed by anxiety. This wasn't a normal concert—I'd been to a few concerts in a wheelchair—this was an outdoor music festival, in the desert. I envisioned a Woodstock-esque chaos of crowds, unknown terrain and 100-plus-degree heat—would they even have restrooms I could use? On top of that, I had no idea if I'd even be able to see the stage. I'd never been to a music festival before, and I certainly had never contemplated these challenges in my new paraplegic life. Could it work?
As I wrestled with the logistical worst-case scenarios, my friends told me that they were going to make it happen, that they'd do whatever they had to to get me out there, and that we'd make it work together. So I bought a ticket and took a leap of faith.
Was it the greatest show ever? A moment that stops time, where nothing, not a single thing mattered, except for the one-time experience that you're lucky enough to be a part of? Yes. As Roger sang, everything under the sun was in tune; for the first time since my accident, I was smiling, I was singing, and I was laughing with my friends. I didn't focus on being in pain or being 'different.' At that moment I was as happy as I'd ever been before. That was a real turning point in my recovery—a turning point in coming to terms with my disability."—Austin Whitney
Birth of a Business
Whitney has attended many festivals since that summer, continuing his self-discovery, while at the same time finding opportunities to share the experience as he builds an Americans with Disabilities Act (ADA) service business. 
While some festivals welcomed the wheelchair patron, others didn't have a clue about ADA compliance, so Whitney began offering advice to festival organizers to better accommodate him and his fellow music fans with disabilities. When Whitney began law school at UC Berkeley in 2012, he started getting paid by individual festivals to help with their ADA compliance. The full-inclusion concept clicked with the industry, and Accessible Festivals was born last year; this year, Whitney and partner Oren Shani will provide ADA services to about three dozen major festivals across the U.S., including the Electric Daisy Carnivals in New York and Las Vegas, the Oregon Jamboree, and the Fun Fun Fun Fest in Austin. 
"I was heartened and pleasantly surprised to find that festival organizers were onboard with the idea of access for all," says Whitney. "They're aware there may be legal obligations, but they really want to do the right thing—they just don't know how—so they're pretty excited to see a guy like me who can help them." 
 Lightning in a Bottle
The past Memorial Day Weekend, my son Xander and I attended Lightning in a Bottle (LIB) festival, a four-day music, art and culture event held at the San Antonio Recreation Center, about three hours north of LA in Monterey County. The event is produced by The Do LaB from Los Angeles, and they take the ADA experience very seriously (they hired Accessible Festivals to make sure they got it right). According to The DoLaB: "It has always been our goal to make LIB a place for everyone, no matter what. What we strive to do with Accessible Festivals is to take away as many of the hurdles as possible to create a beautiful and accessible festival space for everyone."
This year, about 150 LIB attendees utilized the services of the ADA Center. About half of them camped within an ADA sub-camp; accommodations included a dedicated, private tent camping area with parking immediately adjacent to the main roadway, a custom-built camp shower, a shuttle service that ran hourly with rear lift to load and carry wheelchairs, and elevated platforms for those in wheelchairs at each of the main stages.
 Moving around LIB was definitely not easy, with 25,000 people in attendance, and grounds spread out over a mile or so of interconnected peninsulas and dirt roadways. It was hilly, bumpy and dusty, but filled with fun, love, wonder, acceptance and accessibility.
"After pushing around in the grass and dirt, getting cooked by the sun, and having little food and water for three days," says T6 paraplegic Xander Mozejewski, "I've realized that the human body is the most amazing thing in the world." 
Xander was able to get behind the wheel of a Kubota, a heavy-duty golf cart, and contributed to the production effort by delivering coffee, lemonade and bottled beverages throughout the 11 drink stations. No hand controls were necessary, as he utilized one of his camera tripods to accelerate and brake. 
We met one of the neighbors, Louanne Chenowith, a quad who lives two miles up the road from the festival entrance. In 2014 she attended the festival as a guest of The Do LaB and had such a wonderful time she decided to get a vending booth and sell jewelry and trinkets she makes. "I have been in a wheelchair since 1973, when I was 18 years old," says Chenowith. "My husband and I have lived near Lake San Antonio for 15 years, and we have never seen such a Hollywood production as LIB. The Do LaB team was extremely helpful in making a flat spot for my booth, making sure I could get in and out. I went down to the ADA camp and met some of the young campers with disabilities enjoying the music. The best part about the staff at LIB was their resolve to help make the event comfortable for everyone."
Jennifer Nelson, a power-chair-using attendee from Southern California also appreciated the effort toward inclusion. "I always shied away from festivals, as my disability makes it difficult to enjoy the event. I attended LIB in 2013 because they strongly promoted their accessibility on their website. Austin Whitney and his company made my festival experience so incredibly positive! The ADA campsite was awesome: I was near the action so I wasn't draining my battery charge on my chair; and it was close to ADA-accessible showers and bathrooms, and had power available for medical devices. The viewing platform at the main stage allowed me to see the show, instead of just the backsides of the people in front of me! Now, when I'm considering attending a festival, the first thing I check is to see if they have an ADA plan prominently featured on their website." 
 The Setup
 Whitney has a busy summer and fall season ahead with a festival almost every week. For large, outdoor events, planning starts months in advance. While a site plan and map are essential, they usually need to visit the site in advance. Among the tasks are setting up camping for the shows that allow it (most do not), restrooms and showers (both top priority), configuring parking and access pathways, and coordinating shuttle services (shows have stages that are half a mile apart). The accommodations are not just for wheelchairs either. Efforts are made to include sign language, closed caption or assisted listening systems, with information available in braille. Whitney says he and his staff have to approve service animals. Most shows do not allow pets—service dogs are OK but not all such animals are certifiable. 
Whitney and his people also help festivals get their access message set up on social media. "We help the production company set up website information and accessibility services. Sometimes this depends on key demographics—a country show, for example, will draw more patrons with disabilities than an electronic dance festival, while BottleRock, held in late May in the Napa Valley, caters to wine drinkers and a somewhat older crowd than the folks who attend Coachella.
"The key to this is reasonable accommodation," says Whitney. "We are a service business—the goal is to create a very strong human connection. Mainly, though, our job is to be helpful. When I'm on site, I give out my cell phone number and make myself available 24-7. If you spend three days with people, you get to know them. I make a lot of friends in this business."
Whitney has one more semester of law school but it seems law may no longer be his vocation. "I love my job working festivals...My story of what these events can mean to a person is not unique. At each event I've worked at over the years I've had at least one of my patrons tell me 'this festival has changed my life.' I know they're not exaggerating."
Features
accessibility
Music
Festival
Accessible Festivals