Infinite Flow Wheelchair Ballroom Dance Classes Return in Sherman Oaks

Sep 02, 2015 02:05PM ● Published by Style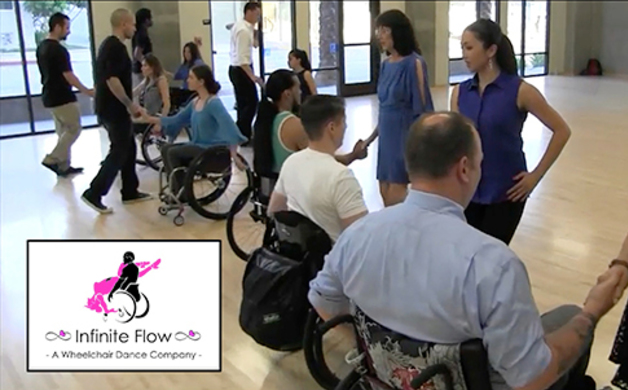 Finally! Infinite Flow will be holding weekly Wheelchair Ballroom Dance Classes, open to individuals of All Abilities. Wheelers (wheelchair users) and Walkers (standing partners) are all needed and welcomed!
Open Classes start on Fridays September 4th, 11th, 18th and 25th at 7:45 to 8:45PM (Arriving 10 to 15 min early is recommended). Weekly activities will continue thereafter with the first student performance group for 6 weeks.
Location: Sherman Oaks Dance Academy
14622 Ventura Blvd, #204, Sherman Oaks, CA 91403

The Studio located above Jamba Juice. Parking lot in the back. An elevator is available.
Students will be responsible for their own transportation needs. The studio will be open 15 minutes prior class and 15 minutes following class. The studio is conveniently located in a shopping center with coffee shops and restaurants if needing a place to wait for Paratransit, etc.
All participants will be required to sign a liability and media release.
Infinite Flow will be recruiting for their first Infinite Flow Student Performance Group during the first 4 classes. If you are a Wheelchair user and have been waiting to learn how to dance, and if you are a Walker who has a passion for dance and sharing, this may be for you.
Class Fee are donation based, pay what you can. Recommended donation amount is $5 to$ 20. All donations are tax-deductible.
Contact Marisa to RSVP and for more info: 949-267-8751 | InfiniteFlowDance@gmail.com
News
Infinte Flow dance
ballroom dance
wheelchair dance
classes