The Los Angeles Area Beat: NEWS NOTES ETC.

Sep 09, 2015 02:40PM ● Published by David Norby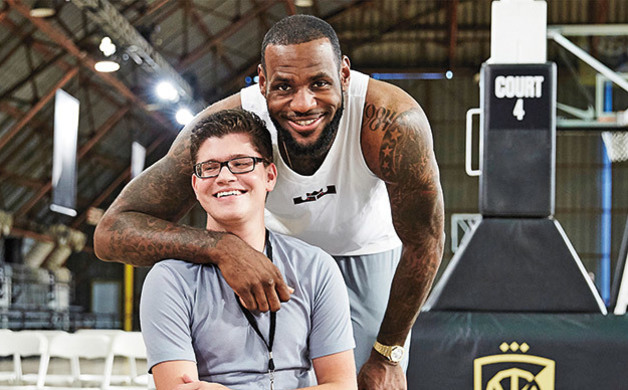 Nike's Easy on Sneakers 
Matthew Walzer 
was an active guy with cerebral palsy looking to solve a footwear problem, so he wrote to Nike. "At 16 years old, I'm able to completely dress myself, but my parents still have to tie my shoes. As a teenager who is striving to become totally self-sufficient, I find this extremely frustrating, and at times, embarrassing," Walzer wrote. "My dream is to go to the college of my choice without having to worry about someone coming to tie my shoes everyday." Three years later, Walzer is in college, sporting his FlyEase, an "easy-entry footwear system." The new shoe doesn't have laces—it uses a wraparound zipper system with a larger opening at the back, making it easier to slide the foot in and out. The Nike Zoom LeBron Soldier 8 FlyEase Men's Basketball Shoe (approximately $130) is part of the LeBron James line. Says James: "Matthew inspired us at 
Nike
 to be able to bring something special that will not only be for himself but also for the masses."
BMW, The Ultimate Wheelchair Machine
BMW's California design group is developing a new racing wheelchair for athletes on the U.S. Paralympics track and field team in the Rio 2016 Paralympic Games. The German car company has a six-year partnership with Team USA and hopes to do for wheelchair racers what they did for the U.S. two-man bobsled team, which overcame a 62-year medal drought at the Sochi 2014 Olympic Winter Games riding in BMW sleds. Designs for the race chairs are still in development, in collaboration with the U.S. Paralympic track team. The idea is to make the device lighter and more aerodynamic. "Ultimately, our goal is to make sure the athlete's energy is used to propel themselves, versus the chair they're sitting in," said BMW in a press release. Improvements will include a redesign of its chassis, application of BMW's aerodynamic efficiencies, enhanced athlete restraint and carbon fiber durability, as well as steering and braking advancements. Elite racers can expect the chairs to be delivered in early 2016. 
Rancho Gets Major Re-Do
 The Rancho Los Amigos National Rehabilitation Center is getting a $418 million renovation and expansion, including a 12,000-square-foot wellness and aquatics center scheduled to open next summer. It's expected that renovations on the entire 42-acre campus in Downey—including a therapy swimming pool with underwater treadmill, weight-lifting room, dance studio, and cardio and yoga rooms—will be completed in 2020. 
Rancho Los Amigos, an LA County facility that provides specialized care for people with disabilities, including spinal cord and brain injuries, strokes and neurological disorders, is one of 14 federally supported Model Systems Centers for spinal cord injury. "This is a new mission," says Dr. Mindy Aisen, chief medical officer at Rancho Los Amigos. "The mission from the federal government and part of the Affordable Care Act is to take care of patients in a coordinated fashion, integrated primary care." According to Aisen, renovations will allow for better care. "Having doctors' offices closer to each other is much more effective. Physicians and therapists can collaborate more easily," Aisen says. "This will be the patient's medical home—one place for all things health-related."
---
News
news
news notes etc.
SoCal Beat