Rob Parsons: Pioneering Adaptive Motorsports in Long Beach

Sep 10, 2015 09:29AM ● Published by David Norby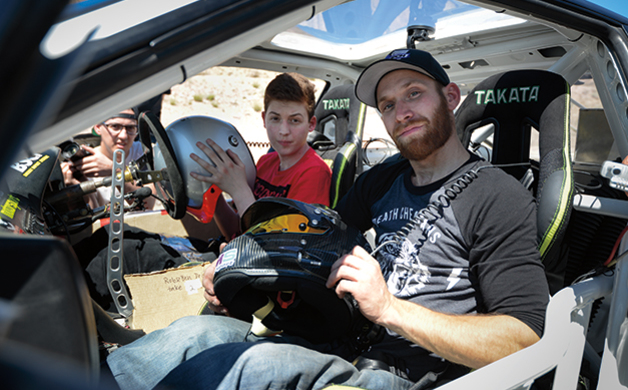 Meet  Rob Parsons. He's a 29-year-old from Lethbridge, Canada, now living in Long Beach, and he's on his way to becoming a pro drifter. If you've seen The Fast and the Furious: Tokyo Drift, you know what drifting is. It's a manner of sliding a car through an impossibly tight corner—traction is gone in the rear wheels, as the front wheels are turned opposite to the turn. 
I drove deep into in the desert outside of LA one recent Saturday to watch a drifting competition at Willow Springs Raceway. Dozens of adrenaline junkies pulled cars out of trailers and started tinkering. The tire burning was on. It was loud, motor-oil grimy, dusty, and exciting as hell. 
Drifting reportedly got started in Japan in the '60s and '70s and first came to America in 1996, at the very track I went to: Willow Springs. It soon went global. Besides the professional level in America—called Formula D, with a roster of 80 or so full-time drivers—there are competitive leagues in China, New Zealand, Europe and Greece, all judged on speed, the angle of your turns and pure showmanship. If your tires smoke up the skies and the crowd hoots and hollers at your maneuvers, you get points.
 Parsons unloaded his tricked out, 600-horsepower Nissan, transferred to the racing seat, and strapped in. The Willow Springs track features four or five hard turns. Parsons revved up his heavily modified rear-wheel-drive coupe and took off like a house afire. Entering the first turn at speeds up to 100 miles an hour, he fishtailed into the drift—spin out, you lose; hit the wall, you lose—the back tires have to get as close to the edge of the track or wall as possible. This is repeated through each turn. A run takes a heart pounding two to three minutes.
Drifting is hard on tires. In his first two qualifying runs that Saturday, Parsons reduced his tires to the surface of a bowling ball. After two races, you're out a couple of hundred bucks and you might lose another set before the night is over.
In the finals competition, two cars race side by side. One is the lead car, the other the chaser. This doubles the amount of skill and effort to win and creates even more noise, dust and close calls. On his third preliminary race, Parsons qualified for the finals. He was almost beside himself with joy. This was the first time he had qualified for a sanctioned race. If he could win the finals he was one step away from qualifying for the equivalent of the drifting minor leagues, what they call Pro2. Succeeding in Pro2 might mean a trip to the Big Show, Formula D. Becoming a pro means traveling the world, drifting in front of crowds of thousands, and making some serious money. And if you ask Parsons why he drifts instead of big-time oval-track racing, he'll tell you that it's more fun, a bigger rush and demands a higher level of micro-proficient driving skill. "It's like flying a fighter jet," he says.
Alas, Parsons' fuel pump blew up on him and prevented him from racing in the finals, but like every other racer on the track that day, he dreams about the big time. The only difference is that Parsons is a T-5 paraplegic, the only one of his kind in the U.S. and probably the whole drifting world. 
A Drifter's Story
Growing up in Canada, Parsons started racing BMX motorbikes when he was 16 years old, riding in skate parks and dirt jump events. "I never really enjoyed standard sports like baseball and hockey," he says. "I really liked being able to jump and do tricks on bikes. I was lucky enough to have a place where I could build dirt jumps and ramps to practice on. I got real good pretty quickly and started entering competitions and riding with my friends every day." By age 25, he had become a skillful biker. 
While riding hard on the up-and-down dirt track at Temple Hill, Alberta, he made a routine jumping error—he was "short on a step-up"—and went flying into a fence. It was a murderous crash. "I ditched the bike and hit the ground at full speed. Two kids called 911. I was in shock, but still conscious. I knew immediately that I was paralyzed." By the time ER doctors could add the damage, he had broken both legs, punctured both lungs and completely smashed his spinal cord. When told of his injuries, Parsons remembers, he "felt dead inside."
After six months in the hospital, Parsons knew what to do. He had one card to play—a defining passion that few of us possess at 25: He wanted to race. As Parsons explains, "When I broke my back, I knew I wasn't going to walk again, so it was easy for me to accept what had happened. I started looking at sports beyond dirt biking that I could easily get back into. I thought, 'There has to be a product or program out there that helps other guys who've been hurt, something that's affordable and pretty straightforward to attend or purchase.' Well, to my disbelief, there was neither."
Before his injury, Parsons had acquired skills as a mechanic—and a 1991 "fast back" Nissan 180SX  (in America, called a 240SX) directly from Japan. It had right side steering, but that didn't bother Parsons. He figured drifting would be a good sport for a wheelchair guy to pursue, so his problem was trying to turn a sporty car into a mean and lean drifting car, and then into a drifting car a guy could drive using hand controls, under extreme racing conditions. He stripped the car to the bone and added a new motor, a new transmission, hacked off most of the front and back, and added a few protective "bash bars" on the front and rear, behind the bumpers.
He began with standard hand controls, but those didn't help him with controlling the gears or the clutch. The key to drifting is fast and accurate clutch control; he needed a way to manipulate the clutch by hand with same split-second timing as hitting a clutch pedal with one's foot. In car-enthusiast language, Parsons describes his adaptation: "I devised a motorcycle-style lever and thumb buttons that electro-hydraulically actuate a twin-disc clutch and H-pattern gearbox." With no prototype to work from, he invented this whole mechanism from scratch. If you saw him burning tires around those hairpin turns, you would have no idea that he was paralyzed or what he went through to get there.
With the help of gearhead friends, it took Parsons a year and a half to build all of this into a slick-drifting machine. The expenses were sizable—as Parsons says, in racing, "you spend two million to make one million."  Parsons went trolling for sponsors to fund the building of a car that had never existed before nor been tested in combat. "As soon as the car started running," he says, "we started changing a lot of minds." His sales pitch must have been convincing, because in the end, 30 companies signed on, from specialty parts makers to a realtor and a homebuilder.
Parsons really had two things in mind while fashioning this one-of-a-kind racecar. One, he was out to get his pro ranking and race with the best. Two, and maybe even closer to his heart, he wanted to use drifting as both a unique visceral experience and motivator to other people living with paralysis. "Challenging myself to build the car, inventing a working system and showing people I can make it happen was a motivator to get the car finished," says Parsons, "but the real reason why I did this is more than just some personal sense of accomplishment. I wanted to help people. There was a need for this and I could tell that very early on into the project."
 Newly injured and lying in the hospital bed, he came up with the idea for Chairslayers, a foundation dedicated to teaching others to drift. "As soon as I got behind the wheel for the first time," he says, "I knew I could not only give people an adrenaline rush again, but I could save people's lives." In Parsons' view, it's hard to feel down and depressed when you're behind the wheel of a car going 50-100 mph and spinning out your back tires like Vin Diesel does. "It's both a fun and empowering activity…a race car is the perfect tool for this because it challenges you on many levels and forces you to problem solve, learn new skills and be creative." 
Chairslayers recently began instructional driving clinics where stone-cold amateurs in chairs get behind the wheel of a high-performance car and learn a little about hand-controlled drifting. In his first such clinic, Parsons taught the gears and pedals to a 17-year-old para from England named Ben Connolly. It was a test for both of them—a test for Ben's driving skills, and a test to see if others could easily pick up Parsons' system. After the smoke cloud of donuts and figure eights subsided, both came away smiling. The whole experience was taped and aired on the Discovery Channel's Daily Planet. Says Ben: "It was the best day of my life."
The next big outing for the Chairslayers drifting clinic will be in mid-September at an event called "BoostFest" at the Wild Horse Motorsports Park in Chandler, Arizona. Parsons will be teaching the rudiments of the sport to a group of paralyzed Iraqi/Afghan vets, by way of the veterans' support organization, Phoenix Soldiers. 
Back to Willow Springs. Because of the blown fuel pump, Parsons came away empty-handed from that race, but thoroughly psyched in qualifying in only his second competition in the circuit called the Top Drift Pro/Am. He has one more race in this season's series to try again. Even if he wins, he won't immediately qualify for Pro2—he needs more competitive experience and probably a few more tweaks to his Nissan to move up—but he is patient and determined, the same attributes that got him from broken spine to the track in four years. He says it will be 2017 before he will have the seasoning needed to compete in the pros.
When drifting comes to your town—and it will get there soon—check it out. Be sure to look for the smoking, green-blue Nissan with the neon green wheels and listen for the name of the original, the one and only chairslayer himself: Rob Parsons.
Article appears in the September/October 2015 Issue of The Hub So Cal Magazine.
Features
,
Today
features
adaptive sports
Chairslayers