Gail Williamson: Changing Hollywood's Perception of Disability

Sep 11, 2015 09:34AM ● Published by David Norby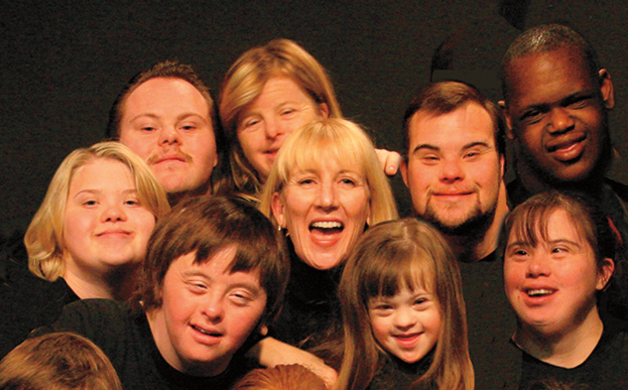 When her son, Blair, was born with Down syndrome in 1979, Gail Williamson did not suspect his condition would come to shape her own professional future. She did, however, recognize she could "absolutely silence a whole restaurant, just by carrying Blair on [her] hip." It was a regular, and sobering, occurrence.
"I don't think people were mean or bad," Williamson says, "but they were uninformed and uneducated. They didn't have an opportunity to know someone with Down syndrome—and there weren't that many kids [with disabilities] on school campuses."
In the decades that have followed those quiet restaurant visits, Williamson has worked to puncture the silence surrounding disability in daily life and in the media. As a diversity agent for Los Angeles talent agency Kazarian/Measures/Ruskin & Associates (KMR), and previously as a key figure within the California Governor's Committee for the Employment of People with Disabilities, Williamson has launched and nurtured the careers of countless talented actors with disabilities—all while subverting the expectations of the audiences and industry she serves.
"Last year, NCIS: New Orleans called me up and wanted a double-leg amputee, a guy, to play a wounded vet. I said, 'Well, I've got some single-leg guys—but what about using a woman? Why couldn't a woman be a veteran?' They ended up casting a woman. I did the bait-and-switch with them."
In a Hollywood climate that typically recognizes diversity as an issue exclusive to race, ethnicity and sexuality, Williamson has championed a broader and more inclusive view of creative talent. It's a view that was, at least in part, sparked by an innocent conversation with Blair, when he was 10 years old. "Blair said to me, 'My Down syndrome is going to go away. Daddy's went away, and my brother's went away,'" Williamson says. "Blair was under the impression that all males began with Down syndrome and that it went away after awhile. I realized I wasn't giving him any adult role models—individuals with Down syndrome who had grown up. He didn't have any adult life in mind for himself."
Williamson credits the ABC drama Life Goes On (which premiered in 1989 and featured actor Chris Burke as Corky Thatcher, a 24-year-old with Down syndrome) as deeply influential for the Williamson family. Watching the series every week with his older brother, Tim, Blair came to recognize an adult life full of possibility, education and friendship—a potential model for his own. Meanwhile, Blair's mother recognized the power of the media to represent, service and champion an often forgotten demographic.
"With Corky appearing on TV every week and in commercials during the week, even people who didn't regularly watch the show became aware, for the first time, that you could have a conversation with someone like Blair. I saw the power of that show, and I heard parents who were having babies with Down syndrome weren't being told to put the babies in institutions—they were being told their babies could grow up to be like Corky."
What would become Williamson's life work as an advocate for diversity began in 1991, when Blair, a Special Olympics athlete, was tapped to star in a commercial for Proctor & Gamble. The spot required the young runner to race up and down a hill in the Santa Monica Mountains. Blair, a natural performer, was game for all of it, and his mother stood proudly nearby. It was then that Williamson had yet another pivotal conversation—this time with a young, expectant mother who raised the topic of abortion.
"It suddenly hit me," Williamson says. "This [commercial] is bigger than Blair having fun and succeeding. It's bigger than just being on a set. I thought of an expectant mother who has a baby [with Down syndrome]. She's scared. Now this commercial comes on, and she sees a happy kid trying to run further than he's ever run before. How is that going to impact her life?"
 Today, and thanks in no small part to his mother's efforts, Blair's credits as an actor include roles on CSI, Scrubs, ER, and Nip/Tuck. He may just have become one of those small-screen role models he, and others with Down syndrome, sought decades ago. 
Other members of Williamson's impressive client list include American Horror Story's Jamie Brewer and Glee's Lauren Potter. Williamson says she even tracked down a baby with Down syndrome to be born on-screen during an episode of Shameless.
But even amidst her considerable successes, Williamson says disability representation in media has been "lapped" by other diversity groups, many of which have members actively working within the industry in positions of authority. For now, it would seem, the pursuit of disability inclusion continues.
"I don't think it will happen in my lifetime," Williamson says. "But I hope to find other people who have the passion to conquer this goal when I retire."
---
Article by By David Radcliff. Photography by Michael Hansel.
© The Hub SoCal Magazine published by Style Media Group. 

Features
features
disabled rights
down syndrome