The Los Angeles Area Beat: NEWS NOTES ETC.

Nov 30, 2015 03:09PM ● Published by David Norby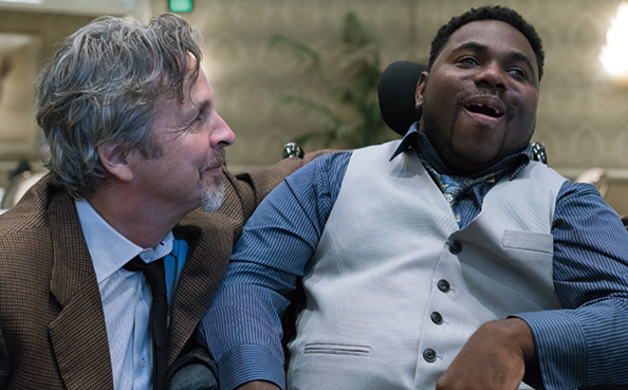 Peter Farrelly and A.J. Murray - Photo. by: Michael Hansel
The Media Access Awards (MAA) recognize and celebrate television and movie depictions of disability that are accurate, inclusive and multifaceted. Recently, at its annual press breakfast in Los Angeles, the MAA awarded actor A.J. Murray for being the "heart and soul" of the documentary Becoming Bulletproof (see page 28 for a review of this new release). Said A.J., who has always dreamed of being an actor, "This role has changed my life. A lot. We're here to celebrate inclusion. For too long we have been invisible in pop culture. This has to change." This year's awards also recognized the work of film director Peter Farrelly (Dumb and Dumber, There's Something About Mary, The Ringer), TV producer Betsy Beers (Grey's Anatomy and Scandal) and actor Mat Fraser (American Horror Story: Freak Show). mediaaccessawards.com
 Jack's Back in Hockey 
Four years ago, Jack Jablonski, then a 16-year-old high school sophomore from Minnesota, was paralyzed from the chest down after he took a hit during a hockey game. Jack, who is now enrolled in USC to study journalism, is not taking to the ice anymore, but hockey is still a big part of his life. He just landed a sweet gig as an intern on the staff of the LA Kings hockey team, where he distributes statistics, transcribes quotes and records interviews with NHL players. "It's super fun," says Jablonski "It's nice being back around the hockey rink, especially in an NHL atmosphere." Meanwhile, Jack helps run the Believe in Miracles Foundation, which supports spinal cord injury recovery. bel13vefoundation.org
Suicide Legalized, Fight Continues
California Governor Jerry Brown signed a law last month legalizing assisted suicide. The state is now the fourth in the nation wherein a person can have his or her doctor provide life-ending services. Is this a good thing? Brown said he struggled with the legislation, but decided he'd want such an option if it came down to him making the choice. He said the law had adequate safeguards. Not so fast, say a wide coalition of activists. For people with disabilities who already depend on an underfunded, highly dysfunctional system of health and social service programs, the thinking goes like this: If it's cheaper and easier to help us die than give us support to live, what do you think the state would choose? Oregon, which pioneered the concept, intended the law to help people in terminal agony and pain. Turns out most who use legal suicide there are mainly depressed. Are they being offered appropriate counseling? Advocates note that legalizing assisted suicide sends the message that feeling like a burden is an acceptable reason for suicide. The slippery slope seems obvious: Subtle or even overt coercion toward death will surely be more cost-effective than life-affirming care.
Activists are circulating a ballot petition to overturn the assisted suicide law in California; sponsors must collect 365,880 signatures of registered state voters by January 4, 2016.
Today
,
News
local
news notes etc.
Los Angeles Beat