Challenged Athletes Foundation of Southern California

Nov 30, 2015 03:17PM ● Published by David Norby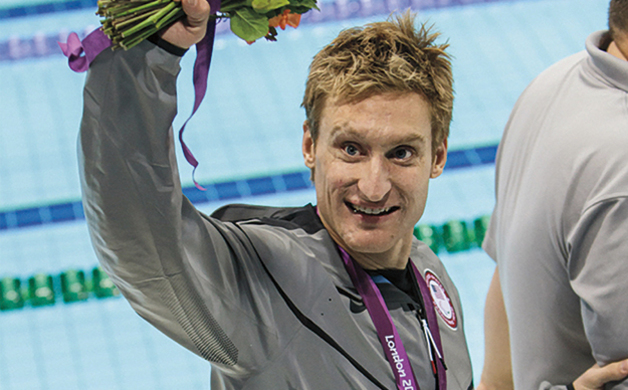 Brad Snyder
As a young child, Scout Bassett lost her right leg below the knee. After being found living on the streets of China, she was placed in an orphanage where she spent the next few years of her young life. At the age of seven, she was adopted and taken to live in America. Unsure and afraid, she tried to adjust to a new culture and life with a permanent disability. It wasn't easy.  
Four years ago, James Sa—a college student, musician and athlete—was paralyzed from the chest down after diving into a mud pit while completing in the Michigan Warrior Dash, "a mud crawling, fire leaping, extreme run from hell." James was a serious competitor, but after that landing-gone-awry, learning to navigate life on two wheels was a difficult adjustment. 
Brad Snyder was serving in Afghanistan in 2011 when an improvised explosive device (IED) permanently blinded and injured him. At the hospital, he was told his injuries would heal but his sight would not.  
These are three stories, among countless others, about people whose lives have been changed dramatically by disability. Scout, James and Brad were overwhelmed and uncertain—until they found the right support. Enter the Challenged Athletes Foundation (CAF), an organization that started in Southern California as a mission to help one man—Jim MacLaren, a record-setting Ironman triathlete whose athletic success came after losing his left leg in a motorcycle accident and inspired millions. When a second accident left him paralyzed, it took more than determination to get Jim back in the game. He needed personal support and the right equipment. 
The Origins of CAF 
To meet the challenge, Jeffrey Essakow, Bob Babbitt and Rick Kozlowski organized the first San Diego Triathlon Challenge (SDTC) to help Jim buy an adaptive van and regain his independence. The 1994 race raised nearly $50,000, twice what they had expected. The money was enough to purchase a van for Jim and lay the groundwork for the CAF, which was officially established in 1997 as a 501(c)(3) nonprofit dedicated to supporting people with physical challenges by helping them pursue active lifestyles through physical fitness and competitive athletics. "CAF believes that involvement in sports at any level increases self-esteem, encourages independence and enhances quality of life." The CAF concept has been hugely successful. The nonprofit has raised more than $67 million to fulfill over 11,000 funding requests from challenged athletes in all 50 states (including Scout, James and Brad) and dozens of countries around the world.
Scout on the Run
When Scout was 14, she received on Ossur running leg through a CAF grant. She shares her enthusiasm: "My breakthrough came in 2002 when a single piece of equipment changed me from the inside out. I ran for the first time at 14 years old, and I haven't stopped since. Running became a healing power in my life and transformed me from a painfully shy recluse to a young woman with confidence, passion and drive." 
Scout went on to earn a degree in communications from UCLA and is currently a competitive U.S. Paralympics track sprinter, three-time U.S. champion in the 100-meter sprint, and motivational speaker. She believes everyone faces a lot of "no's" in life but it only takes one "yes." "If you have a dream or a goal, apply for a CAF Access for Athletes grant and make it happen! Perhaps your dream is to run around with your kids or maybe you want to be the next Paralympics champion—whatever your vision is, it all starts at CAF. Let nothing stop you from doing what you love and loving what you do."
 Rugby James
One of the first people San Diego resident James Sa met after his mishap in the mud pit was Jeff Odom, an experienced and accomplished wheelchair athlete and mentor for CAF. Jeff let James try his rugby chair at a practice and suddenly felt free. "I had no idea I could be strong and fast again. I just wanted to go to a rugby practice to take my mind off being crippled." Once James realized that the right equipment would give him the ability to excel in his sport and be competitive, he jumped at Jeff's offer to mentor him through the CAF program, Project N.Ex.T., which would help James get a rugby chair of his own. 
James used that chair to earn a spot on the San Diego Sharp Edge wheelchair rugby team, and then parlayed his writing skills into a full-time job with CAF as a grant and content writer for their Business Development Office. James, a self-proclaimed comic book nerd, also speaks to a variety of organizations, schools and businesses about CAF and their ability to positively impact adaptive athletes.
Brad Goes Gold
U.S. Navy Lieutenant Brad Snyder always maintained an optimistic attitude, so when he won two gold medals and a silver at the London 2012 Paralympic Games less than a year after losing his eyesight, it was no wonder CAF chose him as the featured athlete for Veterans Day 2014. His adjustment to becoming blind and his attitude about life make him the perfect icon for Operation Rebound, a CAF program designed to help injured troops and first responders to harness the healing power of sport by funding equipment, training and travel expenses. 
CAF has several programs that are designed to help people with physical challenges get out, get active and live fully.  Their goal is to educate individuals with disabilities about the resources and opportunities available to them while also educating the community at large about life with a disability, changing perceptions about disability, and helping those with physical disabilities realize and reach for their dreams.
For more information, visit challengedathletes.org.
---
Photography courtesy of their respective companies and organizations. Article appears in the Nov/Dec 2015 Issue of The Hub So Cal Magazine.
Business Profiles
,
Today
charity spotlight
disabled atheletes
profiles