Take Charge! A Project of the Chicago-based Access Living

Nov 30, 2015 03:32PM ● Published by David Norby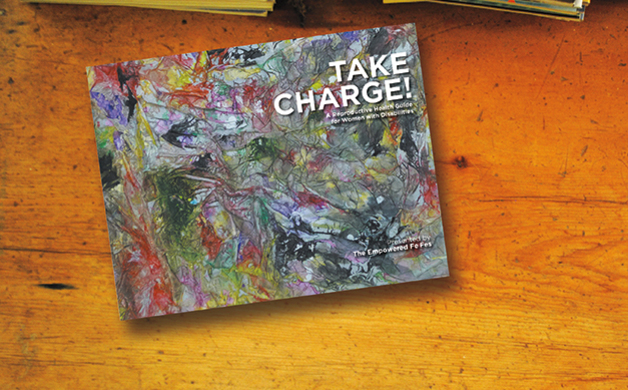 Take Charge!  is a comprehensive 52-page guide and a project of the Chicago-based organization, Access Living. Take charge indeed—the guide has the absolute perfect tone of "we're mad, we're not going to take oppressive stereotyping any more, and we're taking our sexuality and health back with knowledge and flare." 
The flare is infused by the strong desire for inclusion by Empowered Fe Fes, an advocacy and peer support group for young disabled women in Chicago. Started by Susan Nussbaum, the group is now led by Fulani Thrasher, the women and girls' community organizer for Access Living, and her team of seasoned health care navigators, community leaders and organizations. 
The Fe Fe village set out to crush the old stereotypes of "women with disabilities don't have sex, don't have babies and don't become mothers, so why do they need reproductive health care?" The guide offers plenty of support to understand how reproductive rights and civil rights are necessary to help women determine and exercise the direction of their lives—including equal access to health care services and providers. 
The physical and emotional access required goes way beyond simply entering through an ADA-compliant door and into a waiting room; the guide gives clear and easy-to-use tools for self-advocating and confidence building—both important skills—so women with disabilities can create an open and honest conversation with their doctor or health care provider about what their unique identities and needs are and how to accommodate them. 
Traditional health care often sees disability as a condition that needs to be treated, while the guide approaches disability as a natural condition. "The guide is very holistic," Thrasher says. "It looks at all the things that compose the environment for a person with a disability, and doesn't look at health care as the elimination of disability." 
Take Charge! also spells out, in detail, what a woman will experience during a variety of screenings, exams and tests, not only empowering her, but helping to dispel any myths, anxieties or fears surrounding an experience at the clinic or hospital. For example, the guide details what a mammogram is, what equipment is used and how it works, as well as how women should perform their own monthly self-examinations. It also talks about what to expect at a gynecology appointment, discusses birth control and how to prevent sexually transmitted diseases, and even advises disabled women how to see a doctor without a parent or guardian present.
For a free PDF download of 'Take Charge!' visit 
accessliving.org 
and search 'Take Charge!'

KNOW YOUR RIGHTS! 
There's useful information about how the Americans with Disabilities Act protects the reproductive rights of women with disabilities and requires medical professionals to fully accommodate with dignity. Assistance can take the form of adjustable height examination tables or a trained team that can lift someone on to a table; it can also mean assistance undressing and dressing, or audio versions of written information so that women with disabilities can access reproductive health services just as any woman without a disability can.  
Because disabled women are at a higher risk for sexual violence, this issue is addressed fully and openly, aiming to reduce the shame and guilt that accompanies it. There are also numerous resources and references throughout the book to support women with disabilities as they move forward in forming relationships with their health care providers and taking charge of their reproductive health and wellness.
---
Article by Candace Cable © The Hub SoCal Magazine published by Style Media Group. 
Article appears in the Nov/Dec 2015 Issue of The Hub So Cal Magazine.

Health
,
Today
disabled rights
advocacy
women's health