Los Angeles Paralympic Hopeful Alana Flax-Clark

Nov 30, 2015 03:59PM ● Published by David Norby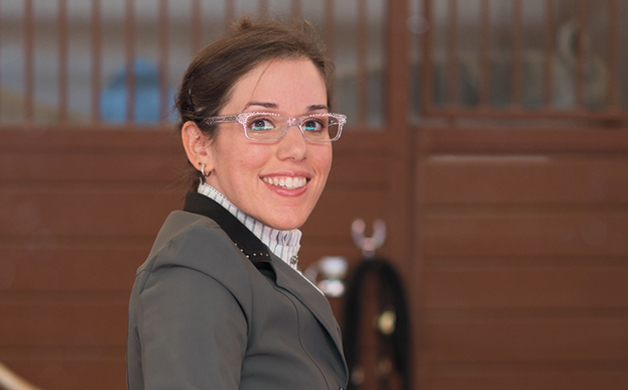 When Alanna Flax-Clark was 13 years old she woke up one morning and couldn't move her right foot. After a number of medical consults and progression of symptoms throughout her entire body, she was diagnosed with a chronic neurological disease that causes multiple, functional loss in the bones, muscles, nerves, skin and blood vessels. She spent the next few years in and out of hospitals undergoing therapies and invasive treatments. 
Alanna went on to college in Memphis, double majoring in biology and psychology, then moved to Boston and obtained a master's degree in education; after, she began a career specializing in children with special needs. Two years later, in 2007, Alanna's health began to decline. She became very ill with a terrible infection and ended up in the hospital with a spiking fever, dangerously low blood pressure and a seriously high heart rate—eventually causing her to lose many functions throughout her body and use a wheelchair full-time.
While Alanna has done modeling, acting and many sports, her current passion is horseback riding—specifically para-dressage, the only equestrian event in the Paralympic Games. Similar to standard dressage, para-dressage requires riders to complete dressage tests that are designed to assess their communication with the horse. The tests are completed in an arena surrounded by letters, which are used as markers for required movements and patterns. The classification manual has a series of profiles determined by numerous physical tests that are used to place riders into what they call "grades." 
MH: What is it about horses? Have you always been into the world of equine?  
AFC: I was never that girl running around in cowboy boots. I really wasn't around horses and didn't know much about them. The closest I ever got to them was when I went to the pony rides across the street from my house. Horses really only came back into my life when I was older, and when I needed them most.   
MH: So you were introduced to horses as part of rehab?
AFC: I started hippotherapy (horse therapy) at Ride On Therapeutic Center in Newbury Park (rideon.org) in 2012 and am grateful for everything they did for me. I went from doing physical therapy to gaining enough strength so I could start therapeutic riding lessons. It was there that I competed in my first show and started to learn more about the sport of para-dressage. I just felt so free and happy when I was on my horse. I loved the challenge it brought me and wanted to learn more.  
MH: Tell us about your trainer—gold medal rider Lehua Custer.
AFC: Lehua had never worked with a para rider before and wasn't quite sure how I would mount her horse, since there wasn't a ramp at the center. I'm the type of person who doesn't let anything stand in my way, so I assured her I could get on from my chair if she gave me a leg up. Once I'm in the saddle, the basic principles, theory and training are all the same—I just have some added bonuses with the para rules, aids, etc. I went to meet her and her Swedish warmblood, Zotti; now she can't get rid of me!    
MH: What are the various classifications in dressage? 
AFC: I'm classified as a 1B. Para-dressage has a classification manual that's recognized at the national and international level and has a series of profiles determined by numerous physical tests that are used to place riders into what they call grades. To be classified as a para-athlete, you must have a permanent and measurable physical disability; exams are done by physical therapists trained and accredited by the Fédération Equestre Internationale (FEI). All of these exams are performed off the horse. Classification is a statement of fact regarding an individual's physical performance, not one's skill. A rider is assigned a grade—from 1A for the most severely impaired, to grade IV for the least impaired—thus, a group of riders may not have the same disability, but they fall into the same profile of function that allows them to compete against each other. Many might think the word "para" in para-equestrian or para-dressage may mean paralyzed; however, para-equestrians are made up of people of all sorts of disabilities. "Para" literally means parallel and as riders we go through the same exact training, rules and regulations as any other person would. Para refers to the sport of dressage, so that we're able to show and compete alongside our peers no matter our physical disabilities. 
MH: What do you have to do to qualify for the Paralympic Games next year in Rio? 
AFC: First I have to qualify, or obtain a starting slot for a National Paralympic Committee (NPC) at the Paralympic Games. The FEI Paralympic Athletes Ranking List, which is used to allocate individual starting slots, is a ranking list of athletes only. Once qualified for a starting slot, the athletes still need to obtain an eligibility score, which certifies that the athlete/horse combination has the required skills and experience to compete in the Paralympic Games. The eligibility score that's required in the process of nominated entries needs to be obtained by the athlete/horse combination. Training for a competition is just like it is for any of our peers. As a para rider it's critical to figure out my compensatory aids; for example, I use two whips to act in place of my legs and loops that go around my wrist to control the reins. I'm not able to adjust the length of my reins, so I need to make sure that Zotti is aware of my cues and how best to react to my aids. We always need to be in perfect harmony, so it's like we are acting as one. When training, I try to set manageable goals to work toward and stay focused in the moment. If I have a bad day, I look to see how to improve for next time and try to be proactive. We always drill patterns and work on new skills, so I have enough saddle time to develop the muscle memory necessary for true mastery. I truly appreciate Lehua's guidance and support and her ability to engage with me. This is her first time working with a para athlete and part of the training is collaborating with me and understanding how my body is doing on a day-to-day basis—learning how I react to the heat, cold, travel, etc.—and how to adjust my training accordingly. We've been able to work together as a team, learn and have fun in the process.   
MH: You recently trained in Maine. Did you focus on specific skills or was it more general in nature?  
AFC: Lehua and I both went to the Carlisle Academy in August. We were fortunate to work with International Para-Dressage Coach Clive Milkins from the U.K. and FEI Paralympic Dressage Judge Hanneke Gerritsen from Holland. We were given the opportunity to ride Zoe, a beautifully trained Hanoverian mare with a gentle nature. She was a great match for me in her size and movements and gave me the chance to focus on different skills throughout the week and improve my strengths in other areas. Each day, Lehua participated in doing group warm-up lessons on Zoe; she then participated in collaborative coaching in the arena, which allowed for immediate feedback with Clive and Hanneke while assessing my positional and gait challenges, adaptive equipment and horse selection. At the end of the week, I was given the chance to perform my individual para-dressage test and have it judged by the high standards of Hanneke Gerritsen. 
MH: How can people help support your training?
AFC: It will take a team of people to help me turn my dreams into a reality. Training, travel, competitions, equipment, clinics, vet care, farrier work, entry fees, etc. are just some of the many things that go into building a successful competitive para-dressage rider. There are many products and services that will help me in my journey including specialized tack and saddles, apparel, travel and equipment. If you would like to do donate or attach your company's name to my journey through any of the products or a cash sponsorship, please contact me at alannaflax-clark.com; a GoFundMe account has also been set up to take donations at gofundme.com/paradressage.
---
Article and Photographs by Michael Hansel © The Hub SoCal Magazine published by Style Media Group. Article appears in the Nov/Dec 2015 Issue of The Hub So Cal Magazine.
Features
,
Today
disabled atheletes
paraolympics
feature